BI Legion celebrates its 70th anniversary
Posted on June 7, 2016 by 40 Mile Commentator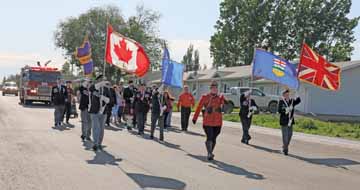 PHOTO BY JAMIE RIEGER- Led by Cst. Andrew Crouse of the Bow Island/Foremost RCMP detachment, members of the Bow Island Royal Canadian Legion, along with donation and award recipients, paraded to the Legion on Thursday evening for a celebration of the 70 anniversary of the local Legion.
By Jamie Rieger
Seventy years have passed since the Bow Island Royal Canadian Legion opened its doors in Bow Island, offering a place for veterans to find common support and to socialize with others who had served in Canada's military.
Over the years, the Royal Canadian Legion Bow Island Branch 197 has evolved to also include offering community support and a place where many community events are held.
On Thursday evening, a celebration was held to honour the Legion's 70th anniversary.
Following an outdoor parade, Legion members and guests gathered for a light meal, words of thanks from dignitaties, the presentation of the Poppy contest awards, and the distribution of more than $10,000 to community organizations. They include:
Alberta-NWT Poppy Fund- $100
Fort McMurray Fire Relief- $1,700
North 40 Mile Handibus Society-$1,000
Meals on Wheels- $500
Food Bank- $900
Medical Transportation- $400
Children's Festival-$400
HALO- $1,500
Bow Island Fire Department- $3,000
Wayne Shaw, Royal Canadian Legion district commander, Bow Island mayor Gordon Reynolds, and Shelley Beck, on behalf of Cypress-Medicine Hat MLA Drew Barnes attended the event.
This year also marks the 90th anniversary of the Royal Canadian Legion which was formed in 1926 when a number of World War I veterans' groups joined together. With over 300,000 members in more than 1,400 branches, the Legion advocates on behalf of veterans, including military and RCMP members and their families, as well has provide support in the community.