Lit greenhouse proposal stirs anger at Cypress County council meeting
Posted on June 14, 2016 by 40 Mile Commentator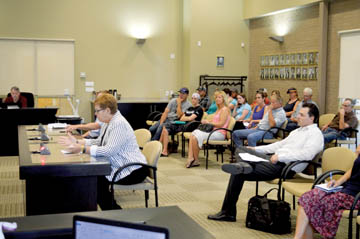 Photo by Tim Kalinowski- Dr. Kathryn Crooks speaks in opposition to a proposed lit greenhouse near her property on Range Road 63. Crooks was one of a group of neighbours opposed to the Skyview Growers proposal who showed up to give councilors an earful last Tuesday.
By Tim Kalinowski
After a tense public hearing last Tuesday, Cypress County council voted that a local greenhouse owner will not be allowed to use intensive lighting in his operation near Seven Persons.
Emotion was running high during the public hearing to re-designate the Skyview Growers greenhouse on Range Road 63 from an all natural light operation (A-3 Horticulture) to a fully lit (A-4) greenhouse when it re-opens later this year.
About 25 nearby property owners, most of whom practiced some form of livestock husbandry, came out to oppose the re-designation.
Among those opposed, a local doctor who let lose on council with facts and opinions about the harmful effects of 24 hour light on human and animal health. A chartered accountant who questioned the economic sustainability of lit greenhouses by quoting numbers from the Alberta government website. And various other voices concerned about the devaluation effect such a changeover would have on neighbouring properties.
Local ranch owner Marlene Obrigewitch used her time to talk about the importance preserving the dark sky. And the wonder of it when she brought out exchange students from China and other countries for viewings on her property who had never once seen the starry night before coming to Canada.
Tanya Ellis, whose young family lives less than 400 yards away from the proposed lit greenhouse, had a more biting criticism.
"I find the irony in the name Skyview Growers because we are going to lose the view of our sky," she said to start off her presentation to council.
She later continued: "Our property sits 350 yards from the greenhouse, of which we have no objection to. I have no problem with the greenhouse whatsoever. My objection comes with regard to it being lit. We welcome agricultural development as long as it doesn't negatively impact the lives of the people living nearby. As long as it doesn't cross the fence, so to speak."
As each of the 25 homeowners present took to the mic, a theme started to emerge: Like Ellis, none had a problem with the greenhouse operating in the area. What they did not like was the fact when the greenhouse was built Skyview Growers owner Doyle Brandt had assured his neighbours on multiple occasions the greenhouse would never be lit.
Brandt later explained to council at the same public meeting why he had been forced to change his business model.
"I think the common theme here is when I built I did say I wasn't going to put lights in it," said Brandt acknowledging the criticism. "The reason I wasn't going to put lights in it because I was growing peppers, and peppers don't react to lights the same as anything else, right? What happened with tornado we got hit with (on June 12, 2015) is we rebuilt and we've got one year to get it in production again. So we have to grow cucumbers. That's the only crop you can put in during the middle of the year."
He went on to say: "We have retooled our greenhouse to grow a different crop, and now we can't go back to peppers. To make it feasible, putting lights in for winter production makes it a viable operation. So I wasn't misleading anybody at the time because I had no intentions of putting lights in. I am not trying to make things terrible for my neighbours. I am just trying to make an operation that I can pay for and make it viable."
Coun. Richard Oster, who represents Desert Blume and Seven Persons, tried to explain to the passionate complainants why this greenhouse decision was a tough one for council to make.
"I've got to be a bit of a devil's advocate, if that's the word for it, because I do live within 300 yards of a lit greenhouse (on Hwy. 3). Council has a lot of things to consider here. You people are very emotional and we understand that, because it is in your back yard."
Oster explained how he had talked to some of his neighbours and they had no problem with a lit greenhouse close by now that it was built, and neither did he. Oster's statement drew a heated response from the gallery which took several minutes to calm down.
"It's not all about the money," said local property owner Garth Brown once order had been restored. "There's a whole bigger picture here of what's going on… We have all worked hard for our properties, and to see that devalued as taxpayers in this county— We have a right as taxpayers to have a voice in this. Not just one entity. That one entity earns a profit from this, and the rest of us will lose. It's plain and simple. That's a fact."
During his presentation, Brown also point blank asked Coun. Dustin Vossler, who also represents Seven Persons, where he stood on the issue.
"Where does this stop? Dustin, would you want to live next door to that?"
"I will answer that question very frankly," replied Vossler. "No."
After the public hearing concluded, council mulled over what it had heard before calling the vote. Coun. Oster sought to further clarify his position.
"I just wanted them to know that there was no one who showed up on the last greenhouse proposal with lighting, and it went through, and it's three quarters built. So I have to be open minded."
Oster, while not opposed to lit greenhouses in Cypress County, said he was voting against allowing the A-4 re-designation for this particular greenhouse.
"I think that Doyle (Brandt) is changing the rules, or changing the scope of it. He built it with the idea that there was no lights, and the people were okay with it. Now he is changing the scope of things, and I have trouble with that. That's not what the people expected, and that's not what they should get. So I am opposed to it."
Coun. Dustin Vossler agreed with Oster's assessment.
"I know Doyle said he had rebuilt the greenhouse with visions of changing over to a different product. Well, maybe he should have got the re-classification (to A-4) before he decided to change it."
Coun. LeRay Pahl, while not convinced a lit greenhouse nearby would decrease property values as some at the public meeting had claimed, agreed with Vossler and Oster's position. He added another important factor to him in his vote was the idea of preserving the dark night sky so families living in the area could continue to enjoy it.
"I am going to vote against it too, not because of anything else but that dark sky is important. The government did designate Elkwater as a Dark Sky area. What Marlene Obrigewitch said was true: When people do come out in the country, and look up in the sky, they can actually see stars."
The final vote was 7-2 against Skyview Growers application.