New riding academy comes to Dunmore
Posted on June 14, 2016 by 40 Mile Commentator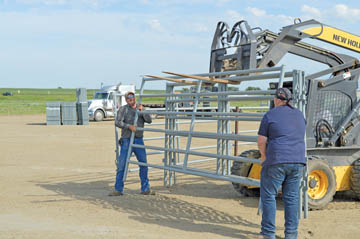 Photo by Tim Kalinowski- The Dunmore Equestrian Society had about 25 volunteers on hand last Wednesday evening to begin construction on the outdoor arena for its new riding academy.
By Tim Kalinowski
Volunteers from the Dunmore Equestrian Society drove in the first stakes and put in the first corral panels of what will be, when completed, the largest multi-use riding academy in the region last Wednesday evening. Dunmore Equestrian Society president Blair Reed was among the 25 volunteers on hand putting in the grunt work to get the panels of the outdoor riding arena up in the sweltering heat.
"We've got a great crew," he said. "Everybody is willing. They are all volunteers. And when you get volunteers working they work twice as hard as union people. It's very rewarding to see this all happening today. We have been in the planning stages for five years, and now we are finally getting to see some light at the end of the tunnel."
Reed said the academy was meant to help showcase local western culture and bring various equestrian activities to the area.
"It's going to help tourism and it's going to put Dunmore on the map. Once we get the indoor facility up, I think it's just going to be great for all our urban and rural people around here. Now there are not a lot of organizations on the books in regards to our western culture, and we hope to bring that to the hamlet of Dunmore."
The facility could employ up to 50 workers during construction and have as many as eight permanent employees once completed. The Dunmore Equestrian Society, which is a non-profit organization, is hoping for further funding from the provincial and federal governments to get the academy built by 2017. Reed said he had recently met with ministers and local representatives in Edmonton, and the early word from them has been encouraging.
"We need infrastructure projects like this to get our provincial economy going with the oil patch like it is," stated Reed. "It's just something we have been working on for a long time for local people from kids' age to seniors. This is going to encompass anybody who can ride a horse or drive a buggy."
The land the Dunmore riding academy is located on was donated by Cavan Ranch Ltd. and Cypress County council forgave the taxes on the plot earlier this year to help give the academy a leg up.