Parkside students helping the world see better with the help of the Lions
Posted on June 21, 2016 by 40 Mile Commentator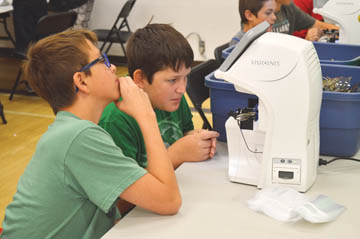 Photo by Tim Kalinowski- Grade 8 students, Desmond Vetter and Jarrett Janzen analyze a pair of eyeglasses to determine it's prescription last Friday morning.
By Tim Kalinowski
The Redcliff Lions, for the second year in a row, hosted representatives from the Lions Eyeglass Recycling Centre (CLERC) in Calgary at Parkside School. Students at the school were given the opportunity to dedicate a portion of their day to helping sort, clean, test and bag up eyeglasses for eventual donation and distribution to one the 90 countries CLERC operates in around the world.
"This is our second year of hopefully an annual deal," said Redcliff Lions Club rep. Bob Wickens, who was also on hand to help out at Parkside's gym with the sorting. "I look at the whole CLERC idea as being a world problem. And getting kids involved directly can make them aware of what is going on in the world. These students are all very involved today, and hands on. Being hands on, and engaging in a creative activity like this, is very important to their education."
James Lee, chair of the CLERC program in Calgary, was teaching students how to sort through the boxes and piles of glasses and recognize which had value, and which didn't, to the project's needs.
"We are showing the kids from the school how the process works, right from sorting the glasses to sterilizing and hand-drying them to then reading them on the lens readers so they understand what the prescriptions are," explained Lee.
He went on to commend the students for doing their part to help out someone else in the world in a such a fundamental, life-altering way.
"I think this generation of kids seem really involved really the process of helping others," he said. "I think it is important to give them a hands on demonstration as to how it can benefit others less fortunate than them. This is tangible. They understand they are helping someone else to see."
Grade 8 student Logan Parker was helping out on a lens testing machine. He certainly got that message loud and clear.
"We are checking the lenses for prescriptions today," he said. "It's neat to be working with a machine like this. It's pretty fun, and people need the glasses."
For more information on the CLERC program, and to learn how you can get involved, visit the CLERC website at http://www.clerc.ca.