Red Hat Co-op proud of its local roots as it celebrates 50 years in business
Posted on June 28, 2016 by 40 Mile Commentator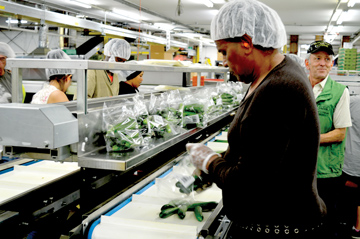 Photo by Tim Kalinowski- A Red Hat employee helps bag mini cukes on the cucumber line during the 50th anniversary open house on Thursday.
By Tim Kalinowski
Red Hat Co-operative Ltd. in Redcliff held an open house and public tour at its vegetable sorting plant last Thursday afternoon to celebrate 50 years since the cooperative's founding in 1966. Gillian Digman, GM of Red Hat Co-op, said this significant milestone in the history of the company was well worth celebrating.
"It was founded in 1966 by ten local growers who decided to band together to sell their produce across Alberta. They got together and formed Red Hat Co-op, and we have been going strong ever since. Our growers are very enthusiastic and proud of the product that we have. And we're all very proud of Red Hat, and the fact we can produce this produce and get it out all across western Canada," said Digman.
Digman went on to say this 50 year anniversary was a perfect opportunity to not only celebrate the past, but to orient toward the future.
"We have a great foundation for the future, and we are expanding our greenhouses here in the area, and we are soon going to have another lit greenhouse built, which will be growing local product 52 weeks a year. The future is definitely on our minds, and we are looking to get our produce further afield, if we can, into the U.S."
According to Digman, Red Hat's success as a company is definitely a collective achievement in every sense possible. Red Hat currently distributes vegetables all across western Canada.
"Red Hat is a cooperative, and I feel a cooperative in the truest sense of the word," said Digman. "That's how we get everything done; we cooperate. All the pieces work really well together to the benefit of everybody.
"Red Hat Co-op has always been community-based and very involved in what goes on here. We are very proud we are local. We are also fortunate we have great workforce we have here. They are very dedicated. They are working 10 hour shifts over seven days through the summer to handle 5.5 million cases of produce which will go out to market this year.
Note: The title of this article was corrected to read "Red Hat" Co-op, formerly read "Redcliff Co-op."