Celebrating Canada Day around southeast Alberta
Posted on July 5, 2016 by 40 Mile Commentator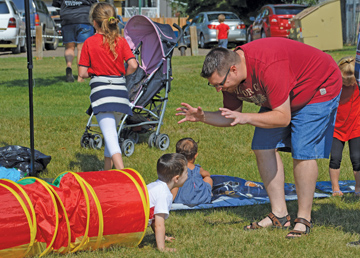 Commentator/Courier File Photo Jason Ottenbreit and son, Mason share in some family fun at the Canada Day celebrations at Lions Park in Redcliff.
By Tim Kalinowski
Canada Day celebrations brought the best out of south east Alberta last Friday at festivities held in Redcliff, Suffield, Elkwater, and every place in between. Whether choosing to celebrate the nation's 149th birthday privately or publicly, the red and white was everywhere.
The Town of Redcliff hosted its annual Lions Park Canada Day celebration with fun and games for the family, tattoo-airbrushing, clowns, a pancake breakfast, live music and wonderful demonstrations of civic pride and national patriotism under bright sunshine.
The park was filled with laughter and wonderful tableaus of family activity. Children ran everywhere with mom and dad hurrying to keep up, and grandparents watching amused from the sidelines. It was a great day to be in Redcliff to celebrate Canada's big birthday bash.
Next down the road in Suffield, a community barbecue and flag-raising ceremony was sponsored by the Suffield Community Recreation Association at the hall. Family was the theme here as well as multiple generations sang Canada's national anthem together as Dave Dennis pulled the flag up to the top of the flagpole.
And then it was nice to kick back with a cold beverage, and enjoy the hotdogs and burgers straight from the barbecue on a lazy and relaxing summer day before heading home to backyard firepits and fireworks as Canada Day gatherings went late into the night.
And finally over to the Elkwater Rodeo Grounds to take in the annual July 1st family rodeo among the tall spruce trees in the high hills, (and to enjoy the slightly cooler temperatures). The stands were full for the event as the crowd cheered on their favourite local rodeo competitors from such exotic places as Maple Creek, Strathmore and Foremost.
As usual the Elkwater Rodeo put the spotlight on youth, with many of the events geared toward giving opportunities to junior cowgirls and cowboys to get some rodeo experience in a safe and family friendly environment. Sure there were results and prizes, but the day was really all about celebrating Canada, country life and community.
Canada Day spirit was on display in many forms across south east Alberta last Friday, but all with one underlying message: We live in the greatest country on Earth and that fact deserves to be celebrated with as much energy as we can muster.
FOR MORE CANADA DAY PHOTOS, SEE PHOTO GALLERY AT BOTTOM OF WEB PAGE.