County council votes to make changes to dust control policy
Posted on July 12, 2016 by 40 Mile Commentator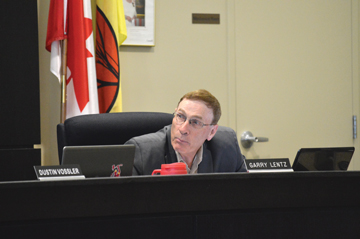 File Photo Garry Lentz
By Tim Kalinowski
Councillors moved to reign in over-use of private dust control strips in Cypress County at last Tuesday's council meeting. County staff suggested the changes as several residents had begun requesting multiple dust control strips around their properties.  As Policy R1 "Private Dust Control" stood prior to Tuesday's vote, the second or third strip would cost the same subsidized rate of $315 annually for each 200 metre patch.
The policy change council voted on last week would keep the same low rate for the first 200 metre strip, but if county residents or businesses requested an additional strip it would require the property owner to pay 50 per cent of the cost of the construction. The current cost of installing a 200 metre strip is $22,050.
If adopted, property owners in the county would also now be prohibited from applying for a third strip; and if a parcel of land is subdivided or resubdivided a Special Tax would be imposed on both parcels without any additional dust control treatment.
Cypress County's Director of Public Works Curtis Richter read out the reasons to council for staff's request, concluding:
"The primary logic of "Policy R1 Private Dust Control" is about improving the quality of life by decreasing annoyance or discomfort from dust, not the elimination of dust. It should not be a method or strategy of getting the entire road oiled for dust control," he said.
Coun. Garry Lentz saw it differently.
"We just looked at an offsite levy for Irvine where we would be charging 10 per cent of the actual costs. That's a 90 per cent gift to the future residents there. Walsh we are looking at a three per cent recovery; so that's 97 per cent gift to the future developers there. And that's only for the water and sewer; that doesn't cover the free pavement of their streets. So I think we need to keep that in mind. Why do we have to do cost recovery on our rural residents when we have no problem giving huge gifts to our hamlets?" he asked.
Coun. Ernest Mudie disagreed with Lentz. He felt the property owners currently getting dust control already got enough of a deal with Policy R1, even with the proposed changes.
"The fact is these dust control strips are ridiculous, and, generally, if you are a poor person you can't afford them," he said. "We are charging a third or an eighth of what other guys are charging. It's great if we are supplying something, and giving them a break on a service. But generally if you are out in the rural, someone comes down the road you put up with it. This is a luxury, and even if we were charging $1,000 a strip we'd still be subsidizing it. It's one thing to subsidize it, and it's another thing to be ridiculous."
Most on council agreed with Mudie's position and voted to adopt staff's proposed changes to Policy R1. The final vote was 6-2 in favour. Coun. Richard Oster was absent.
This is the second major policy change to Policy R1 in the past year. Back in October councillors voted to bring in a phased five per cent increase each year for the next five years for private dust control, meaning most with private dust control paid $315 in 2016. This annual fee will eventually reach $380 a year by 2020.