Hardware business has been in Knibbs family for 60 years
Posted on July 12, 2016 by 40 Mile Commentator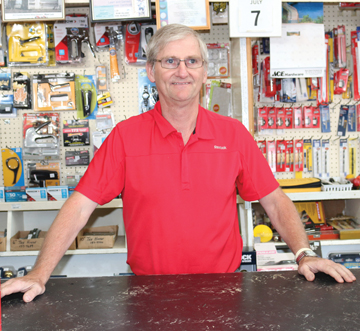 Photo by Jamie Rieger- Robin Knibbs, owner of Ace Hardware in Bow Island, is proud to be carrying on the business that has been in the family for 60 years.
By Jamie Rieger
It has been 60 years since Bert Knibbs was hired as the new manager of the local hardware store and the store has stayed in the family ever since.
"My dad became manager in June of 1956 and I was born that July," said Robin Knibbs, owner of the Ace Hardware in Bow Island.
It was not until 1968 however, that Knibbs Sr. would purchase the store from Claude Bishop.
"It has been very good to us. It supported the family and we all got to learn a bit at a young age about being an entrepreneur, how to work with people, and doing things like making change for the customer," he said.
Knibbs and his wife, Connie purchased the business in 1993.
"I have been here for 42 years now and have seen lots of changes."
Advancements in technology are some of those changes that Knibbs has had to adjust to and admits he is always learning.
"I am learning and I have very good tech. people who say they like to use me as an example," he said.
Knibbs attends two seminars in Winnipeg a year; one in the spring for Christmas merchandise and one in the fall for the spring and summer items.
Knibbs said he takes a lot of pride in his business and can often be seen early in the morning sweeping the sidewalk to have things ready for when the customers start arriving.
"I work hard, I take pride in it, and I don't take many days off. I had a good teacher with my dad," said Knibbs. "I am very proud of my mom and dad. They worked very hard and had to scratch every nickel and dime. I am following in their footsteps and it makes me feel good."
Knibbs attributes much of his success to a loyal staff, some of whom have been working there for 10 or more years and said the whole community has been supportive throughout the years.
"We are very grateful to the people who have supported us over the years," he said.
Part of that goes to their giving back to the community in the form of donations to various organizations and charitable events.
"We probably donate 50 times a year to different things. That's part of doing business in a small town. If you give, they will come back and support you," he said.