A very special birthday party
Posted on July 19, 2016 by 40 Mile Commentator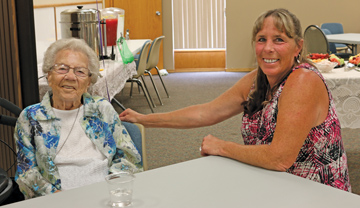 Photo by Jamie Rieger- Gladys Hodgson and granddaughter, Roxie Thacker share a special moment.
By Jamie Rieger
Family and friends of Gladys Hodgson packed the Golden Age Centre on Saturday afternoon to help Gladys celebrate her 105th birthday. Son, Gordon celebrated his 85th birthday alongside his mom.
"It is quite a feat for her to still get around as she does," said Gordon.
Guests lined up as they came in to have a chat with Gladys, who was surrounded by many family members throughout the afternoon.
Gladys grew up with 10 siblings in the Winnifred area, and learned early that chipping in and helping with the family chores was part of everyday life.
She always said 'a hard day's work never hurt anybody' and she lived by that," said Gail Lane.
In an interview with the Commentator in 2012, she recalled that hauling water for doing laundry was just one chore she helped out with, but there was also time for fun and treats.
"Those used to be pretty good times in Bow Island. There were not many cars, but one guy used to take us to town and take us to the candy store," she told the Commentator.
Having lots of siblings also meant knowing how to make fun.
Two years ago, Gladys got sick and the family was not sure if Gladys would make it through.
"She was in the hospital for 79 days and we took her off her pills and she has been doing fine without them," said Lane.
These days, despite failing eyesight, Gladys enjoys playing cards, bingo, and her weekly evening church services, where she particularly likes the singing.