Cooper happy to be home, but soon heading to Europe to play hockey
Posted on July 19, 2016 by 40 Mile Commentator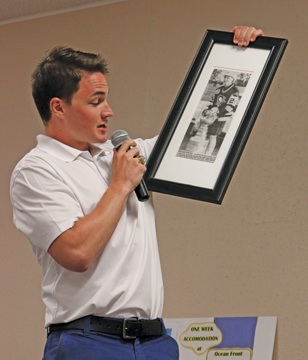 Photo by Jamie Rieger- Carson Cooper shows this framed picture at the recent Troy Loney charity golf tournament of himself as a toddler, sitting in the Stanley Cup when Loney brought the Cup home in the early 1990s. Cooper will be heading to France in early August to play hockey for a team in Strasbourg.
By Jamie Rieger
Carson Cooper has picked up a bit of an accent over the past few years studying and playing hockey for Yale University.
Cooper stopped by the Commentator office recently to talk about his university and hockey life and Yale and what direction he is taking now that he has graduated.
Cooper said he had a fairly smooth transition when he first arrived at the prestigious school.
"Yale is pretty small, with only about 5,000 undergraduates, so that helped. And, there were seven other freshmen, so I automatically had seven friends," said Cooper. "Also, the senior goalie was from Lethbridge and there were two players from Calgary who showed me the ropes."
Cooper also said that Yale Hockey takes proper care of their players, giving guidance and advice.
His freshman year was a successful one, academically and on the ice where he and the Yale Bulldogs captured the national championship title.
"Winning the national championship the first year was really cool. We had stumbled through the league tournament and nearly missed entry, but we made it. I told mom and dad we would be playing Minnesota, but thought that would be as far as we would go," said Cooper. "We beat them in overtime, then went on to beat North Dakota."
His parents then flew to Pittsburgh where the bulldogs beat the University of Massachusetts-Lowell.
That night, Cooper got a phone call from Troy Loney, who called to give Cooper words of encouragement.
"The next night, we won our game," said Cooper.
The following year after winning the national championship, the Bulldogs were invited to throw out the first pitch at Fenway Park, but the event was canceled because of the Boston Marathon bombing which happened just a few days prior.
"We were supposed to throw out the first pitch at a Red Sox game the year after our  nation championship freshman year. It was supposed to happen the week after Boston bombings and it never happened. It was sad, sad we couldn't go, but sadder with what happened," said Cooper, adding that he did get to sit in the box behind home plate for a Yankees home game.
The Political Science major said that the team did not have as successful of a season during his sophomore year, but academically, he was having a great year. He stayed down east that summer, in Stamford, about 40 minutes outside of New York City.
Daryl Jones and Keith McCullough of Yale Hockey Alum arranged for some employment for Cooper in New York and he jumped at the opportunity.
"They had finance research company, so I got my work visa and worked for them for the summer," he said. "I was working as an investment banking analyst and thrown in financial world. I learned a lot, but was working 70-80 hours a week."
Cooper got a job offer back for after graduation, which he said took a lot of pressure off senior year.
The Bulldogs did not have a winning season Cooper's senior year.
"We lost to U Mass Lowell in OT two years in a row, that was tough, hard having college hockey end on that note, he said.
Upon graduation, Cooper has come home to Bow Island this summer for some much-needed rest and relaxation, as well as getting caught up with his family and friends, before jetting off to Europe to play for hockey in France.
"At the beginning of our senior year, me and a buddy thought that if we could get European contracts, we should go there. Instead of grinding with teams in North America, we should go there. They found an agent who found a couple teams for us," said Cooper.
In April, Yale announce that Cooper and Bulldog teammate, Mitch Witek had signed one-year deals with Club des sports sur Glace in Strasbourg, a team in the French First League.
Cooper begins practice with his new team on Aug. 15.
"I feel like I have all my ducks in a line now; so as long as I don't wander, I will be fine," he said.