Farming Smarter field tour in Cypress County
Posted on July 19, 2016 by 40 Mile Commentator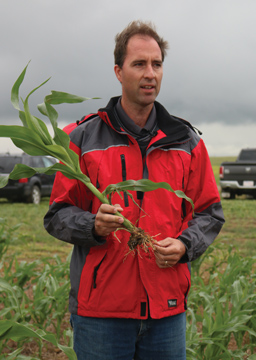 Photo by Jamie Rieger- Lloyd Van Eeden Pertersman of Taber Home and Farm Centr is pictured doing a demonstration on rain-fed grain corn agronomy and explained that getting on top of things early is vital with corn, particular in dryland fields.
By Jamie Rieger
Mother Nature may not have been playing nice last Thursday morning, but a little rain did not stop approximately 40 agronomists and area producers from taking in the Farming Smarter field tour, held at their trial plots  east of Veinerville.
he
Lloyd Van Eeden Petersman, from Taber Home and Farm, started the day with a presentation on rain-fed (dryland) grain corn agronomy. Van Eeden Petersman talked about the importance of staying on top of things early in the season for the most optimal results.
"Keep the weeds out early. Corn, in its early stages, is weak against weeds. "A lot of work goes into spoon-feeding that corn," he said.
Van Eeden Petersman cautioned against seeding too early, though.  "Don't plant in cold conditions and cold water on corn can hurt it badly."
"Yield potential is determined at an early stage. That's why you need to be on top of things right from the start," he noted.
Van Eeden Petersman also discussed several diseases that affect corn crops, including wireworm, cutworm, Goss's Wilt, and European Corn Borer, which can be problematic for producers.
"The moths come in from the east.  We will see eggs being laid under the ear and once the eggs hatch into the larvae and eventually, we will see holes in the leaves and then the stalks, which is a real concern because the ear then can't get nutrients," he said.
"Farming Smarter was interested in doing the agronomy side of it because Medicine Hat is the most stressful area for corn. It is the hottest, the driest, and has the sandiest soils," said Ken Coles, general manager of Farming Smarter
Doug Brodoway, from UFA gave a presentation on field-based forensics, talking about could go wrong with canola, pea, and wheat crops. The participants were shown several plots that were seeded at differing bushels per acre, different seed depths, and with different amounts of fertilizer.
Next on the agenda was a short jaunt down the road to a canola field where Autumn Barnes, agronomy specialist with the Canola Council of Canada and Coles gave a talk on the technology of vacuum planters versus air drills and also discussed seed and row spacing, as well as rates and tolerance to liquid phosphorous fertilizer.
"This is the first year of a three-year project and it will be interesting to see how this project goes," said Barnes.
Dr. Hector Carcamo, research scientist of insect pest management from Agriculture and Agri-Food Canada, was next on the agenda and gave a comprehensive overview of different insects, particularly which ones are most prevalent in the region at this time of year. He also talked about doing sweeps of the fields and economic threshholds of crops such as canola and peas.
Cypress County Agricultural fieldman, Jason Storch said the event was successful, despite the drizzle that was falling for much of the morning.
"The turnout was good, despite the weather and the feedback we have receiving has been good," said Storch. "With applied research, everything is pretty new and pretty cutting edge. We had a good mix of agronomists and producers attend. So, we were pleased with how it went."
Cypress County councilors Garry Lentz and Dustin Vossler who both sit on the Ag. Service Board also attended the event.