P & H keeps on growing
Posted on July 19, 2016 by 40 Mile Commentator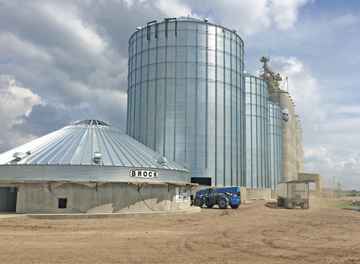 Photo submitted- Four new steel bins ave been constructed at Parrish and Heimbecker near Bow Island.
By Jamie Rieger
The fourth and last 5,000-tonne steel been has been constructed at Parrish and Heimbecker Ltd., west of Bow Island, expanding the capacity at the site from 22,000 to 42,000 tonnes.
According to John Noble, manager as soon as the construction was complete, a millwright team and electricians would start their work.
In addition, their rail car capacity will allow for 112 cars from the current 56.
"We expect the 112-car spot will make the grain car supply more readily available as opposed to the 56-car spot. 112 cars is a full CPR train," said Noble. "The railway incentive for loading 112 cars in one day will be passed onto the farmers to make us competitively priced in the market."
P &H has also purchased a 3,000 horsepower locomotive for the moving of cars while loading.
Noble added that the added storage will allow them to clean the grain and be in a position to load two or three 112-car spots in a short period of time. The 112-car spot is expected to be completed by Aug. 1.
Noble also noted that there is a good possibility a fertilizer shed and blender will be added next year.