Penny Carnival creating memories in Redcliff
Posted on July 19, 2016 by 40 Mile Commentator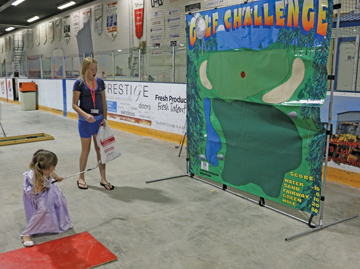 Photo by Jamie Rieger- Four-year old Ansley Billings, dressed in a princess gown, had no problem hitting a ball in the Golf Challenge as Lauryn Hauck looks on.
By Jamie Rieger
For many who grew up in Redcliff, the annual penny carnival was a summer event that they always looked forward to. Heading to Lions Park for a couple hours of playing games and winning prizes was a fun way to wile away a summer afternoon.
On July 13, the tradition was carried on with a Penny Carnival, held not at Lions Park, but indoors at the Rec-Tangle.
"I went to the penny carnivals as a kid and they are a fond memory of my childhood," said Cindy Murray, director of community services for the Town of Redcliff. "So, I want the youth today to experience it, too."
Upon arrival, each young person received a plastic bag for holding tickets. Children over six years of age received an empty bag, while under six received a bag containing 10 tickets. They could then collect additional tickets at each of the games and redeem them for prizes at the end.
This year's event included a jump castle, face painting, penny toss, and plenty of other activities for the young people.
Murray said she has received a lot of positive feedback from parents about the penny carnival, many of whom share the fond memories of many people who went to the Redcliff penny carnivals as children.