Porter named Honourary Medicine Hat Stampede Parade Marshal
Posted on July 26, 2016 by Tim Kalinowski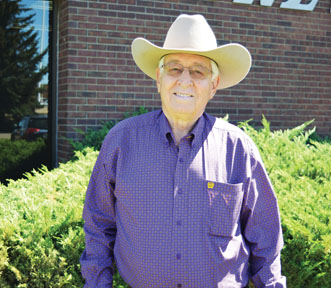 This year's Stampede Honourary Parade Marshal is Bob Porter. The former MP's family has been farming in Cypress County since 1883 and helped found the modern Stampede.
By Tim Kalinowski
The Porter family was ranching in Cypress County pretty much before anybody else, homesteading here in 1883. The Sundance Ranch, located just south of the TransCanada highway between Walsh and Irvine, seems to live up to that history. The dramatic hills and a largely untouched prairie landscape surmounted by cattle and bison takes all who look upon it in a journey back in time to those early frontier years.
Bob Porter, patriarch of the Porter family, has spent pretty much his whole life riding and working this land. Except for a brief stint in Ottawa as an MP (1984-1992), he has seldom journeyed far from it.
Ever the pragmatist and level-headed businessman, the soft-spoken Porter, who has been chosen as this year's Honourary Parade Marshal for the Medicine Hat Stampede, says there was never a reason to go anywhere else.
"I had no intention of being a career politician," states Porter. "I still don't have a high regard for career politicians. I think it should be ordinary people with some experience in the real world getting in there and giving it their best shot while they can… In my case, when you have your own business, it's a matter of how long can you afford to be in Ottawa."
It's the same reason why heading out on the rodeo circuit never appealed to him.
"I had enough rodeo at the ranch," jokes Porter. "Unfortunately the two don't mix. The rodeo is three days here, and then god knows where the next day… A lot of these guys who get into it say they are trying to get a little money together to start a ranch somewhere. Well, I got a ranch already."
That, however, does not stop Porter from enjoying the rodeo spectacle of the annual Medicine Hat Exhibition and Stampede, or the other activities that go on during Stampede week. Porter says the event has become everything his father Emerson, a founding member and shareholder of the current Stampede organization, would have hoped for back in 1947, when the Stampede's modern era kicked off. Porter himself has a deep appreciation for this history, having invested a substantial portion of his own life continuing his father's work to make it a first class event in southern Alberta.
"You know, there was a 25,000 prisoner of war camp in 1945 where the grounds are now," remembers Porter. "To go from that to getting a Stampede going in two years is pretty amazing when you think about it. They were all volunteers, and they each kicked in a hundred bucks to buy a share… They built it up. I guess what I have enjoyed seeing is it built from that little two day show back then to what it is now: Three days of rodeo, night shows and an A-class fair. And on top of that there are probably 600 events per year at the Stampede grounds… It's gone way beyond. It is a full time business."
Porter says he is honoured to be chosen as this year's Honourary Parade Marshal; although he is not quite sure what the actual criteria was.
"I think they picked me because I live close to town and don't need a hotel room, and I got my own tickets to Stampede anyways," says Porter with a laugh. "But it's a pretty big honour. I've had other things given to me, but this, when you are chosen by people who really know you, and have worked with; rather than just being picked at random somewhere— I think it means a lot more."
Porter is proud of his family's history in Cypress County. He is proud of his family's longstanding involvement with the Medicine Hat Exhibition and Stampede. He is grateful to the volunteers involved in making the whole thing run. And he hopes everyone who can will come out and enjoy Stampede week in Medicine Hat.
"It's a wonderful event and facility for the city and the district," says Porter.