Technical groups wrap up second set of meetings
Posted on July 26, 2016 by Jamie Rieger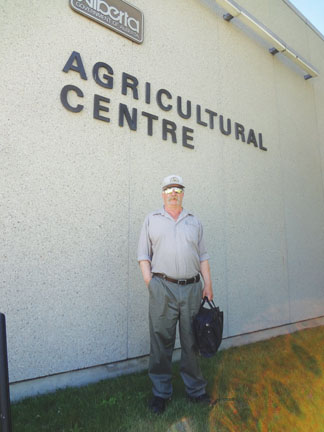 Photo submitted by Darlene Dunlop Eric Musekamp arrives for the second set of meetings on developing farm and ranch workplace legislation.
By Jamie Rieger
Technical working groups for the Enhanced Protection for Farm and Ranch Workers Act (Bill 6), have met for the second time since June, putting together the groundwork through a comprehensive consultation process.
"It was tremendous; it was a really successful and productive meeting. I was pleased with my colleagues and pleased with the efforts being made by our government," said Eric Musekamp, who is participating in the discussions and was part of Technical Table # 6 at the meeting. "Everybody at my table was very serious about making improvements and we had good representation including farmers."
The groups have thus far been working on policies, procedures and definitions. Musekamp also said some of what they discussed was in developing a "Frequently Asked Question" section.
"It can be a challenge at times for people to get answers on some of this," he said. "We are trying to make an effort on this so we can put informed information out there. This is happening. There is no going back."
Musekamp said a Farm Safe manual developed by Alberta Agriculture is a good tool for farmers and ranchers, as the process moves forward.
"It really is a marvelous tool. It walks you through it and yes, it does look like a pain, but the bottom line is that this is what needs to be done," he said.
Musekamp stressed the effort the Alberta government is making to ensure the whole process is done with all impacted parties included.
"The government is very keen on working with industry to see this through. There is still some unhappiness out there, though," he said. "I am very happy to be a part of this. Getting started is the message that needs to get out there. Guys are unsure of where to start, so they are not doing anything. That is where the Alberta Farm and Ranch website can be very helpful."
Musekamp said the working groups likely will not meet again now until after harvest.