Alberta government still dragging its heels on HALO
Posted on August 2, 2016 by Jamie Rieger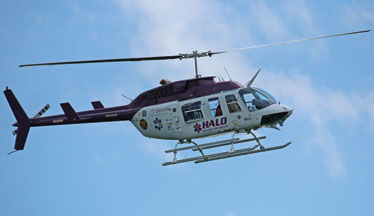 Commentator/Courier File Photo
By Jamie Rieger
It has been a busy few months for the HALO rescue helicopter. While they typically receive more calls over the summer months and into the harvest season, the number of calls is up over the average.
"We responded four times in just 10 days. This is a busy time of the year for us," said HALO chair, Dale Thacker.
HALO relies heavily on donations and corporate contributions to keep operating and while Alberta Health Services does provide the paramedics and they receive a small stipend on a pro-flight basis, there is no further financial support for them.
"We are currently negotiating with the government, but nothing is happening. We haven't seen a cheque yet," he said.
Until the provincial government steps up and starts providing financial support for HALO Rescue, the organization must rely on donations and fundraising to keep providing the service.
"We have lots of people and organizations that support us because they believe in HALO; but, this is something the government should be taking care of," said Thacker. "These local organizations should be helping things in the community, like sports teams, park benches, and children's programs. It is difficult for me to take money from organizations like the Elks and the Moose, but we have no choice. In some ways, the wrong people are having to support us. We just have to keep on pressing the government."
Thacker also said that area municipalities have been incredibly supportive of HALO Rescue and in helping to push the Alberta government for support.
"Municipalities have been amazing at helping us," he said.
HALO Rescue has been serving southern Alberta and southwest Saskatchewan since 2007 and Thacker said it is frustrating that they have been trying to get the support from government since then.
"We are the only dedicated helicopter rescue organization in the province that does not receive funding from the Alberta government," he said.
Thacker is hoping they can meet with Alberta Health Minister Sarah Hoffman soon.
"She is very good at doing what she says she is going to do, so we hope to meet with her soon. We can never get them to sit down with us in the summer because somebody is always gone on holidays, but if I get that call to meet, I don't care if I have to stop harvest, I'm going."
On a positive note, Thacker said things are getting better in regards to the dispatching of calls.
"Before, the calls were not getting dispatched quickly enough to us; but, now the dispatch is happening more often and quicker."
As long as the need for the helicopter rescue service is there, the need for financial support, whether from the Alberta government or through donations and fundraising, will be there. With the increase in calls for assistance on the rise, the need is there more than ever.
Jackie Valcoff, executive director for HALO Rescue provided the following statistics for March, 2016 to July, 2016:
March
2 trips
6 standbys
April
4 trips
5 standbys
May
2 trips
4 standbys
June
2 trips
5 standbys
July
5 trips
4 standbys