South Country Co-op donates $36,000 to Redcliff Bike Skills Park
Posted on August 2, 2016 by Tim Kalinowski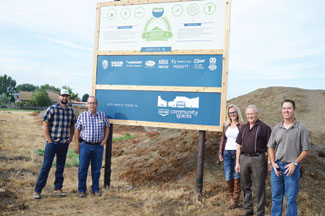 Photo by Tim Kalinowski South Country Co-op donated over $36,000 to the Redcliff Bike Skills Park through its "Community Spaces" program on Wednesday. The bike park was designed and is maintained by members of the 670 Collective Mountain Bike Club on behalf of the community of Redcliff.
By Tim Kalinowski
South Country Co-op showed its community spirit last Wednesday by making a sizable donation to the Redcliff Bike Skills Park. The $36,200 donation was given through the Co-op's "Community Spaces" program, a $1.5 million yearly fund set up to help local co-ops give back to their western Canadian communities.
The Redcliff Bike Skills Park helps teach local kids fundamental bike skills and provides a space in the community for those with a bit of the daredevil in them to challenge the obstacle course and get some exercise.
Mike Clement, general manager of South Country Co-op, said the park was one of the only applicants in their service area to get the entire amount its organizers were asking for this year. Clement said it was obvious what the bike park brings to the community and surrounding district, and he was proud to support it.
"It helps the betterment of the community," he said. "It's for the betterment of all residents in this local area. South Country Co-op has been in Redcliff now with our cardlock for quite a few years, and we just recently opened our new gas bar convenience and liquor store in Redcliff. Redcliff is part of our Co-op community, and we have numerous members in town."
The bike park was designed by the 670 Collective Mountain Bike Club about three years ago on the site of the old BMX racing track. Since then the 670 Collective has continued to maintain and better the park year after year with the blessing and support of the Town.
"We are going to use this money enhance the park," said Brandon Adams, lead park designer for the 670 Collective. "We are going to add new features and we are going to develop the park sustainably to last for a long period of time without having to do a ton of maintenance over the year. We are going to add some larger features, and areas where kids can basically learn their skills in learning how to ride their bikes from start to finish."
They will also begin hydro-seeding to make the park more green and inviting for all Redcliff residents to come out an enjoy themselves, not just the bikers.
"It's a huge deal for our club," agreed 670 Collective president Blaine Fairbrother, who was also on hand for South Country Co-op cheque presentation Wednesday. "This donation will take us through our second phase to make it look more like a park, and more like a place where people want to come and hang out and spend time."
Mayor Ernie Reimer said he was thrilled with both the 670 Collective's efforts to enhance the quality of life for those living in Redcliff and the South Country Co-op's participation in the community.
"We are very grateful for the Co-op for what they do in the community," stated Reimer. "It's very good to have that partnership. The bike park brings a lot to the community, especially for our young kids. But not only for them; for adults as well. They can really enjoy this. It also goes in conjunction with all the new trails the 670 Mountain Bike Club has developed throughout the river valley here. So it's good for the town."