Wild west comes to Ralston Rodeo
Posted on August 9, 2016 by 40 Mile Commentator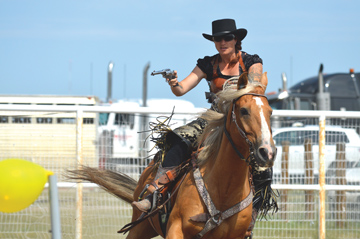 Photo by Tim Kalinowski- Competitive western-style mounted shooter Brit Debras demonstrates her dead-eye aim at the Ralston Rodeo on Saturday.
By Tim Kalinowski
Ralston's 37th annual rodeo took place this past Saturday. Overcast skies at this year's extravaganza made it a little cooler for those sitting in the stands, but was a huge improvement, weatherwise, over last year's drowned out event.
As usual the rodeo didn't disappoint, offering interesting opening acts and exciting professional bull riding action.
One of the highlights of this year's rodeo included the True Grit Mounted Shooters, a team of competitive horseback target pistol shooters in the Old West tradition, who combined speed and accuracy and western allure in a compelling way for the entertainment of the crowd.
The Young Gunz Trick riders were another highlight. The Young Gunz, all Alberta kids, did Roman style two horse riding, trick athletics on pony back and threw in a an old school lariat demonstration for good measure.
Of course the big event on the day, as has become the norm with the Ralston Rodeo, was the bullriding. The pro-bullriders always put on a fantastic show for the audience of mostly British soldiers and their families, many of whom have never seen anything like it before.
The Ralston Rodeo turned itself into a first class Wild West Show this year. One can only wait with anticipation for what the minds at BATUS and CFB Suffield cook up for next year.