Rex proud of her big win at Calgary Stampede photo contest
Posted on August 16, 2016 by Tim Kalinowski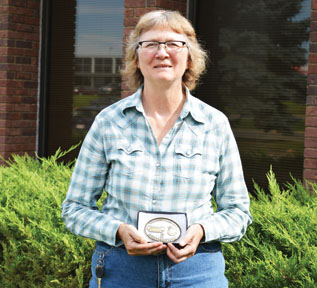 Susan Rex, "The Buckin' Photographer." Rex won Best of the Competition at the 2016 Calgary Stampede for her digital painting "The Pick-up Men."
By Tim Kalinowski
Cypress County resident Susan Rex, a.k.a. the "The Buckin' Photographer," has been a fixture of the local rodeo circuit for the past seven years. Every rodeo you head out to, you will see Rex kneeling down in one corner of the arena, tripod and extension lens at the ready to capture the most action-packed rodeo shots. It is certain Rex definitely has an eye for action, but she also has an eye for finding those expressive moments in each of the rides she captures. That expressiveness is what makes her shots stand out, and which led her to win Best Rodeo shot, Best First Nations shot and Best of the Competition at the 2016 Calgary Stampede Western Showcase photography contest.
"If you are in rodeo the Calgary Stampede is known as 'the One.' If you are a competitor, it always your dream to get there. I came across their Western Showcase in 2015, and I thought okay that's my goal. To enter and at some point to win," explains Rex, who also finished as runner-up in last year's Calgary Stampede "Rodeo" photo category. "You have a bit of sixth sense for what you think will be a good shot, but there is always that thing where sometimes you think in your head you've got it, but never know until you put it on the big screen of your computer."
The Best of the Competition shot "The Pick-up Men" was snapped at the Irvine 20 Mile Post Days Rodeo last September. Rex had seen some form of the winning shot in her mind for several months, but it wasn't until late in last summer's rodeo season the stars aligned for it in Irvine.
"I kind of had an idea of what I wanted," confirms Rex. "So it just happened: I was at (20 Mile Post Days) Irvine. The pick-up men were coming toward me. Ashton (Carter) was just getting off of his bucking horse, and I took the picture and I knew that was going to be the one. The pick-up men had green chaps on. Ashton had a green shirt on, and it was just perfect… I knew the shot was there, and I didn't miss it."
For Rex it doesn't stop with capturing the perfect picture; she takes the process one step further to create a unique digital painting from each photo. A piece of artwork which can be proudly hung on a wall in her clients' living rooms or dens.
"I took that photograph from Irvine, and I worked on it. I made it into a digital painting. I then entered it in Calgary. I have to give the judges credit for having the nerve to pick something that was digitally manipulated to the extent I did it. I was speechless when I heard I won. I still am. It's a really big highlight (of my photography) career."
Rex doesn't know if she will ever top her 2016 entry for the Stampede's Western Showcase. She is alright with that. She has other ambitions going into the future.
"It's a great feeling to win! My next goal is to be on the cover of a magazine. I would love to get on something like Western Horseman."
In the mean time, you will continue to see Rex at every local or regional rodeo event she can get to, and getting as close to the action as possible.
"I fell in love with rodeo as soon as I saw it," remembers Rex. "I love the action, the horses, the animals and the people. I always say if I don't go home covered in dirt and mud and animal snot, I am not getting close enough."
To see more of Susan Rex's work visit her website at http://www.thebuckinphotographer.com.