Appels making strides as research chair for irrigation science
Posted on August 23, 2016 by 40 Mile Commentator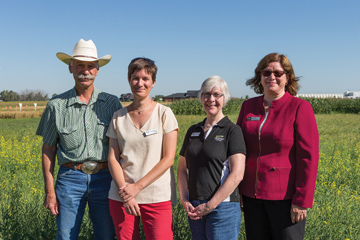 Photo courtesy of Lethbridge College- (From left): Michael Mueller; Dr. Willemijin Appels, Mueller Applied Research chair in Irrigation Science; Dr. Edith Olson, interim co-dean of the Centre for Applied Arts and Science and chiar of the School of Agriculture; and Gina Funicelli, Dean of the Centre for Applied Research and Innovation
LETHBRIDGE COLLEGE – Just months into her tenure as Lethbridge College's first Mueller Applied Research Chair in Irrigation Science, Dr. Willemijn Appels is already making her impact felt in southern Alberta.
The position is the first fully-funded applied research chair in the college's history and was made possible by a record-setting $3.1 million gift from Lloyd and Dorothy Mueller, announced in 2014. Lethbridge College supplemented the gift with $1.9 million in funding to create the Mueller Irrigation Science program.
Since beginning work at Lethbridge College earlier this year, Dr. Appels has started setting up a research program that investigates how new scientific findings can be translated into practical applications for producers in the irrigated agriculture sector of southern Alberta.
"I have been fortunate to meet some wonderful people in and around Lethbridge who work in irrigation,'" says Dr. Appels. "Producers, businesses, irrigation district people, government researchers – there is a wealth of knowledge and experience in this region and an enthusiasm to explore new technologies as they emerge. Figuring out how we can really optimize water use in agriculture with all available and advanced technology is a complex issue that will keep me busy for the coming years."
The addition of Dr. Appels is furthering Lethbridge College's commitment to becoming a leader in both agriculture and applied research in southern Alberta. She is working to find practical applications that will meet ag industry needs as farms become more technologically advanced and increasingly reliant on collecting, analyzing and applying varied and complex real-time data.
"Willemijn is off to a great start by quickly getting a handle on where her research can best fill a niche and complement the work of other researchers in irrigation in southern Alberta," says Dr. Edith Olson, interim co-Dean of the Centre for Applied Arts and Sciences and chair of the School of Agriculture. "She developed sound research proposals and has started her field work. She also successfully earned a grant from the college's Centre for Applied Research and Innovation Fund (CARIF), which will allow her to conduct further research of benefit to producers and the industry."
"After working with Willemijn for a short amount of time, it is easy to see that she has a scientific mind and a desire to understand and solve problems," says Jeff Bronsch, Industry Liaison, Irrigation at Lethbridge College. "Her approach to develop a deep understanding of irrigated agriculture and her role as the Mueller Applied Research Chair in Irrigation is a great opportunity to move the industry forward in many different areas."
Originally from the Netherlands, Dr. Appels joins Lethbridge College from the University of Saskatchewan where she was recently working on detailed hydrological processes at reclamation sites in Alberta's oil sands region. Her initial work in Lethbridge includes monitoring soil dynamics in canola fields using different irrigation methods and investigating how technologies and software can enable more sophisticated water management on farms. Her on-going applied research projects will involve students from the Agriculture Sciences, Geomatics Engineering Technology and Computer Information Technology programs.
"It is great timing to become part of the college as it is ramping up its applied research program," says Dr. Appels. "There is a lot of support available that will hopefully translate into relevant and innovative research projects."
Dr. Appels' applied research fulfills the vision of the the Muellers, who were great supporters of education, and who passed that passion on to their more than 25 nieces and nephews. Their wish was that their philanthropic gift would go to support agricultural training in a post-secondary setting, which led to the creation of the Mueller Irrigation Science program.
"Lloyd and Dorothy would be really pleased and proud," says the Muellers' nephew Michael Mueller. "This was their vision. They wanted their gift to be meaningful and they wanted it to go towards education. To see the addition of the applied research chair and to see an entire program developed around their contribution makes our family very proud."
Two-thirds of irrigated land in Canada is in Alberta, of which more than 70 per cent is in the Lethbridge region alone. In addition to focusing on water use and environmental stewardship, Dr. Appels and the Mueller Program in Irrigation will also allow for research and development within the agricultural sector for the application of knowledge from data and the optimization of technology-driven irrigation practices. Additionally, she will work closely with industry partners and agricultural producers to cultivate relationships beneficial to all parties.
"Willemijn is eager to dig in, get her hands dirty and contribute to the agriculture community through her research," says Ken Coles, general manager of Farming Smarter. "We are thrilled to have the opportunity to work with her and wish her much success."
Through its highly-adaptable and collaborative learning environment and its future-focused training and research programs, Lethbridge College is fast becoming a hub for agricultural research and innovation. The college is a proven player in the industry, with faculty, staff and partners who are resourceful, understand farming, embrace innovation, focus on our vision and lead the way with data-driven agriculture.
Major agriculture-related initiatives at the college include the groundbreaking Agriculture Business Risk Management program, a flexible-delivery curriculum designed in collaboration with industry partners, and the Cor Van Raay Southern Alberta Agribusiness program, a joint program being developed by the college and the University of Lethbridge. The latter will focus on agriculture-related education opportunities in the areas of ag-economics, business development, entrepreneurship, finance, human resource management, commodity and futures trading, and general management and leadership with a focus on agricultural innovation.