Canadian Foodgrains Bank gets blessing from above for harvest
Posted on August 30, 2016 by 40 Mile Commentator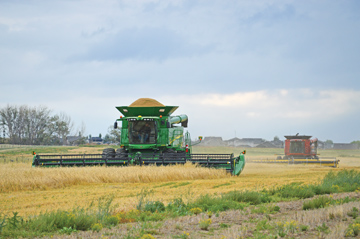 Photo by Tim Kalinowski- Brimming full after the first round of the harvest.
By Tim Kalinowski
There might have been a little divine intervention at last Tuesday's Canadian Foodgrains Bank harvest near Medicine Hat.
At 9 a.m. a cold wind was blowing and a rain squall was approaching from the northwest. It appeared to be bearing right down on the Canadian Foodgrains field. The John Deere combine brought in by Western Tractor was onsite, but hadn't been fired up yet. The CASE IH one from Rocky Mountain Equipment was on its way. Local Foodgrains Bank organizer Charlie Redpath looked up at the skies.
If the rain began to fall hard, everyone would have to be called and told not to come. The barbecue would have to be cancelled. Who knew when they might get in again? Friday? Saturday? The powerful winds of the day before had dried out the crop perfectly. Everything was in motion. Today was the day.
Charlie Redpath looked up at the skies.
"I think it might miss us," he said.
And then something odd started to happen, the wind suddenly began to turn. The clouds themselves curving as the wind began to bend west. Ten minutes later the wind was blowing straight from the west and the rain squall was pushed right past the edge of the Canadian Foodgrains Bank field. Those standing by watching could clearly see the rain drops hitting the houses just beyond the edge of the field, but only a few droplets fell on the field itself. And then the John Deere was making the first round and driver Coby Schacher was reporting the grain was dry enough to take off. The CASE, with drivers Aaron Winter and Shawn Campbell, hit the field a few minutes later, and the harvest was well and truly in progress.
The non-rainy window lasted the entire morning; just long enough for the harvest to be completed. A monsoon began falling about noon.
Redpath was in no doubt what had happened.
"It was the big guy upstairs," he said matter-of-factly. "He knew this grain was going to help others in need."
The final tally off the field was about 2600 bushels for the Canadian Foodgrains Bank, with an average of about 37 bu/acre. Redpath was thankful for yet another successful harvest year for the Foodgrains Bank.
"This is our 17th harvest. We've had some very good years. It's very rewarding to see the harvest come off like this, and I'd like to thank the people who helped out to get it to this point… Everything is donated, basically. From the seeding, spraying, fertilizer and the harvest. We wouldn't be able to do this without all that help," he said simply.