Summer reading program at Foremost Library winds down for season
Posted on August 30, 2016 by 40 Mile Commentator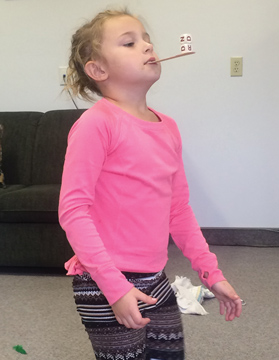 Photo submitted by Megan Kurtz- Ainsley Hazell does here best balancing act in one of the games at the wind-up party.
Submitted by Megan Kurtz
The Foremost Municipal Library held its annual wind-up party Aug. 24. We had a total of 11 children show up for a few hours of games. The party began at 11:00 a.m. and we started with some different "Minute to Win It" activities. At noon we all sat down to a delicious hot dog lunch!
Thanks to Mrs. Kurtz for making the cupcakes for the party and Mrs. Unrau and Mrs. Kurtzweg for helping to serve lunch. After lunch we went outside and played with the parachute for a little bit and then we came in and made balloon animals. Overall, this summer was a huge success with a total of 89 kids being signed up for the program. Thanks to all of the kids who came and participated in the Craft Times, Adventure Times, and the game!