Council approves land use change; paving way for Western Tractor to relocate from City to Cypress County
Posted on September 13, 2016 by 40 Mile Commentator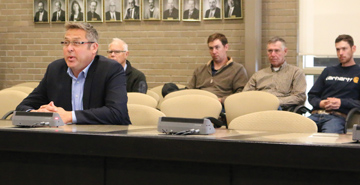 Photo by Jamie Rieger- Western Tractor president, Steven Dyck presents his arguments to Cypress County council during a public hearing for a land use change from Agricultural District 2 to Industrial District. The approval allows Western Tractor to move forward with its plans to relocate in the County.
By Jamie Rieger
Landowners living adjacent to a parcel of land being proposed for an agricultural equipment dealership voiced their opposition at a public hearing held prior to the Cypress County regular council meeting on Sept. 6.
The public hearing was held when the applicant, Bootleg Holdings, proposed to change the land use designation from Agricultural District 2 "A-2 General Agriculture" to Industrial District "I" on a 8.09 hectare parcel of land along Township Road 120, less than a kilometer east of the Highway 3 junction.
Lorne Morisseau, who wrote a letter to council and attended the public hearing, said, "I live on the 120 and we already have industrial business down the road. Why is that area not filled up first?" he asked council.
The location for the business would be at the intersection of Township Road 120 and Range Road 64, and Morisseau said big trucks now have a challenge in making the turn at that intersection.
"I know the 64 would need upgrading. It's challenging for the semis to turn now. At this point, I disagree with this, but that may change down the road."
In his letter, Morisseau also expressed concerns about increased traffic, noise, and higher land values.
A woman, identified only as Mrs. Franz, told council she has been living near the proposed location for more than 50 years. She stated bluntly, in a thick German accent, she believed businesses like Western Tractor, "should stay in town," and further stated she thought council should "smarten up."
Western Tractor president, Steven Dyck also made a presentation to council, stating that they would address all concerns from the public.
"Our intent is to move from 30th Ave. in Medicine Hat to this location to better accommodate our customers. We have been searching for land for some time and we understand the concerns from the adjacent landowners," said Dyck.
"The traffic increase would be minimum because our customers already use the 120 as a ring road. Our intent is to accommodate the growth of our business and locate outside of the urban area because we serve the rural community," Dyck said, adding that Western Tractor is having a traffic impact study completed.
Planning supervisor, Jeffrey Dowling noted that Highway 120 was built for commercial/industrial traffic and that the proposed parcel is located outside of the county's Tri-Area IDP. However, the proposed property would be impacted by future plans for Highways 1 and 3 realignment.
In the end, council voted 8-0 in favour of the application.