Durum crop will benefit many
Posted on September 20, 2016 by 40 Mile Commentator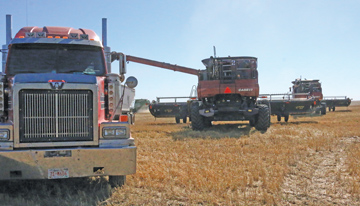 Photo by Jamie Rieger- The combines queue up at the grain truck.
By Jamie Rieger
Members of the Westfield Growing project were expecting a bountiful harvest from their durum field when the combines took to the field on Friday morning.
Combines from the Kings Lake and Shamrock Hutterite colonies were used to harvest the 160 acres of durum, which members expected to yield above 50 bushels per acre.
Joe Waldner, from the Kings Lake Colony has been donated his time and equipment every year to the project.
"It's very simple why we do it. This is a very good cause and it's a way we can help out," said Waldner.
The Westfield Growing project is in its 20th year on land donated two decades ago by Murial and Nellie Luca.
Al Schussler has been involved for more than 10 years when he fist brought his own combine and equipment to help with the harvest for the Foodgrains Bank.
In its 20 years, the Westfield Growing Project has contributed nearly $640,000 to the Canadian Foodgrains Bank and last year alone, raised over $47,000.
The Canadian Foodgrains Bank partners with 15 Canadian churches and church-based agencies to end global hunger. The federal government also provides matching financial support.