Cherry Coulee Christian Academy holds grand opening for new classrooms
Posted on September 27, 2016 by 40 Mile Commentator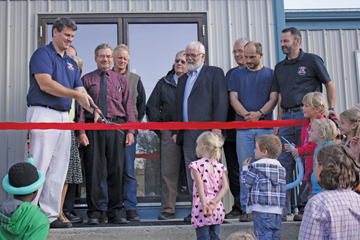 Photo by Jamie Rieger- Cherry Coulee Christian Academy principal, Mike Daniels (left) is joined by dignitaries and parent council members in cutting the ribbon at the grand opening for the school's new classrooms.
By Jamie Rieger
After close to four years of digging in their heels and working hard to get additional classrooms, staff and volunteers at Cherry Coulee Christian Academy had a bit of rejoicing to do on Saturday as they held the official grand opening for their new facility.
"This has been almost four years in the making, and three years since we first moved the buildings in," said CCCA principal, Mike Daniels. "We did a lot of fundraising and it definitely took a group effort to make it all happen."
Koinonia Christian Schools superintendent, Vern Rand and assistant superintendent, Garry Anderson attended Saturday's celebration.
"Cherry Coulee is one of seven schools and has been a member since they began in 1989 and we thank them," said Anderson. "We want to recognize those people who put in the time, effort, and money to make this happen."
Several years ago, when school administrators and parents first began discussing the need for more classroom space, they learned that a Christian School in Airdrie was up for sale less than a week after a hole was inadvertently put into the roof of one of their old portable classrooms.
"God heard us. It wasn't even a week when got an email from Airdrie that the landowner of the property said they had to get rid of their portables," said Daniels.
After viewing photos of the building, a group of CCCA people went to Airdrie to have a closer look.
"When we got back, we got a parent meeting together and discussed our options. We did not have money to build, so we came up with a number that we could afford," said Daniels. "Airdrie had put $400,000 into renovations alone and the number we came up with was much less than that."
Eventually, Airdrie accepted the offer from CCCA.
"They were wanting more money to finish their new high school, but they really wanted to help us and that was the start of the whole process," said Daniels.
The building was first cut into four pieces before the journey to Bow Island, but in the process, all the electrical components were cut as well, so all of that had to be replaced.
After a few glitches and setbacks, the 45 students at CCCA are settled into their new, brightly painted classrooms.
"God had it all planned out before we even knew it existed," said Daniels.