Cypress County agrees to fund book exchange elevators in hamlets
Posted on September 27, 2016 by 40 Mile Commentator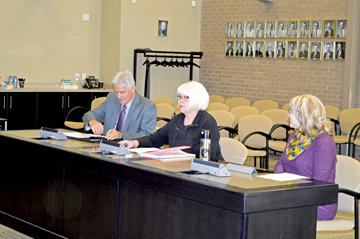 Photo by Tim Kalinowski- Pictured, from left: Prairie Rose School Division superintendent, Brian Andjelic, CECC Community resource coordinator, Marilyn Fisher, and Premium Sausage owner, Debbie Penner speak to Cypress County council about the CECC's Little Grain Elevator book exchange project.
By Tim Kalinowski
Little grain elevators will soon be popping up in Cypress County communities. The Cypress Early Childhood Coalition (CECC) came to Cypress County council last week on a mission to pry the $15,000 in funds needed to create their free kids' book exchange boxes, (shaped like grain elevators), out of reluctant councillors' pockets. Council had previously rejected the CECC request for the funding at a meeting back in March, but Coun. Richard Oster had convinced council to hear one last delegation from the organization last Tuesday.
Supporters brought the big guns with them this time around. CECC Community Resource Coodinator Marilyn Fisher, PRSD Superintendent Brian Andjelic, Premium Sausage owner, and former librarian, Debbie Penner, and two young mothers, Sydney Page and Alli Penner (babies in arm), were all there to voice their support.
Fisher started the bombardment with a presentation talking about the importance of early learning and literacy in those aged 0-6 years, citing the latest government research and statistics. She didn't pull any punches with where she felt the responsibility lay to help foster that in Cypress County.
"On the County website it says, and I quote, 'Cypress County Council strives to provide programs and services that promote a rural lifestyle while retaining an agricultural character.' This is such a perfect fit. Our little free libraries will look like grain elevators. They will provide a service that doesn't currently exist in most of our communities: (Local) access to books," she said definitively.
Superintendent Andjelic told councillors the PRSD board considered literacy for school age children its most important priority, having spent $350,000 on new literacy resources the past few years. He said the board was glad to be able to do that, but also felt increased literacy had to start at home before kids entered the school system.
"Reading from a very early age creates a love of learning. And it certainly creates an educational advantage. Kids that come to us who have homes that are rich in books… They have a leg up when they start school… Literacy is our number one goal, and we back that up with budget by the board… But that still does not have much of an impact on the 0-4 year-olds, for sure."
Penner said she was willing to act as a steward and take care of the little grain elevator in Seven Persons when it gets built. She had already received many books from local donors in anticipation of having the book exchange present in the community.
"Please be the councillors that say yes to this," she said. "Partner with us. You will leave a legacy of literacy and community, and that's what we all want in Cypress County."
Coun. LeRay Pahl said he had no problem with the idea of fostering early literacy in Cypress County, but was not exactly sure this was the most effective way to go about it.
"The (little library) in Medicine Hat near Crescent Heights has been knocked down three times. Books all over the sidewalk. How do you foresee keeping those problems away?"
"I think we have to realize vandalism will happen," said Penner in response. "It probably will. As a steward that is my concern… Community will fix that up and take care of that."
Pahl said he also didn't understand the high cost associated with building these little grain elevators.
"What about getting these things built by retired carpenters? You want $15,000 to build these when there have got to be people out there who would build them for nothing. I am sure Brian (Andjelic) has a carpenters that could build them for nothing."
That got a few chuckles from councillors, but Andjelic was quick to respond.
"The board has already put $350,000 into resources prior; so I think we are doing our share in that regard," he said.
Fisher said given the nature of the construction work, it was better to have them done professionally.
"We could go that route, however, the coalition is a group of people who volunteer their time to do that job," she said. "I am the only paid employee, and I have very few hours I can work. The problem with that is finding the time to go out and find the actual people who would be necessary to build them, ensure they all look the same, and ensure they are all weatherproofed and built to last for a long time."
One young mother in attendance, Sydney Page, stated she did feel the little grain elevator book exchanges would help her do more to teach her daughter Willow early literacy.
"I actually really love this idea because living out near Seven we never get a chance to go to the library. I have never taken her to the library so I only have a few books I can read, and I have read them over and over again. They may not get boring for her, but they get boring for me so I might stop reading them. Where if I had new book to read to her all the time, it would help."
After Reeve Darcy Geigle called the public hearing to a close, Coun. Dustin Vossler suggested the grain elevators could be funded through the County's rec. fund, which had a large surplus this year. Council members agreed, and voted unanimously to pay the $15,000 for the little grain elevators over celebratory exclamations from CECC members in the gallery.