Forty Mile Rail starts rolling
Posted on September 27, 2016 by 40 Mile Commentator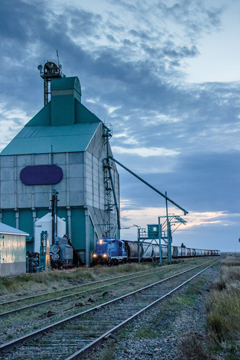 PHOTO COURTESY OF DALTON PHOTOGRAPHY- The train rolled into town about 7:00 p.m. last Thursday evening, commencing the hauling of grain for Forty Mile Rail, based in Foremost.
By Jamie Rieger
It was what the residents of Foremost and surrounding areas have been waiting a long time to hear and finally, on Thursday evening, the train for the Forty Mile Rail Line rolled into town, much to the excitement of the 300 people who turned out to help celebrate the milestone.
"It really was an exciting day for us and the county," said Leonard Mitzel, who, along with a group of shareholders, has been working for years to have a shortline rail line in the comminuty. "It was 103 years ago when the first train came through and now, we have this in our community again."
Byron Halvorson is one of those sharholders who was in attendance on Thursday evening.
"This is exciting. There has not been a train in Foremost in 11 years and getting this here now has been a long process and we had to be patient, but in the end, everything lined up just right," said Halvorson.
With more than 100 shareholders, the shortline will accommodate about 400,000 acres of production and will involve numerous grain companies that will have access to the service.
Mitzel made an announcement at a confrence in Medicine Hat in June that the Forty Mile Rail Line would soon be up and running.
"There is not one grain company who has one shipper control of it," explained Mitzel at the conference. "So there will be 16 or 18 different companies that will have access to that elevator. There will be bid prices coming in every day. So there will be someone (on staff) who will work as a broker getting in touch with producers. He or she will know what products they have on the particular farms that are available which are not under contract, and will be letting producers know what the spot prices are for that day."
While the initial primary purpose of the shortline is to haul grain, the organization expects potential from other industries in the future.
"Forty Mile Rail's main focus is to establish itself as a reliable delivery agent of its customers products to the main line, and from there these products are moving to markets, wherever they may be," Mitzel told the Commentator/Courier. "The primary market for Forty Mile Rail service is expected to be grain and pulse production. Other industries also have potential, like oil movement and non-grain products."
For its inaugural run on Thursday evening, the train engine was pulling approximately 20 cars, taking 45 Super B trucks off county roads.