Three-vehicle collision on Eagle Butte Road
Posted on October 4, 2016 by 40 Mile Commentator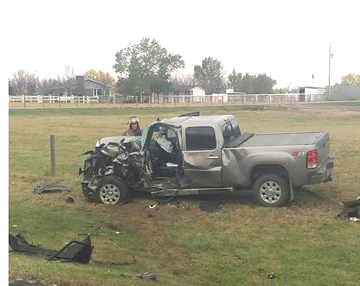 SUBMITTED PHOTO - Cypress County and Medicine Hat fire departments responded to a three-vehicle collision with multiple casualties on Eagle Butte Road on Monday morning. The cause of the collision is still being investigated.
At 8:45 a.m. Monday morning Medicine Hat and Cypress County fire, the RCMP and other emergency services responded to a three vehicle collision south of Dunmore on Eagle Butte Road just past the Josephburg Trail.
Three victims were taken to hospital with unconfirmed injuries when an Eastbound vehicle on Eagle Butte Road was sideswiped by another coming off an acreage road, swinging the Eastbound vehicle into oncoming traffic for a head on collision. Police are still investigating the cause of the incident.
According to John McBain, acting deputy fire chief for Cypress County, the accident could have been far more serious.
"Everyone was pretty lucky for the most part," said McBain.