Cypress County draws line in the sand on Lansdowne deal
Posted on October 11, 2016 by 40 Mile Commentator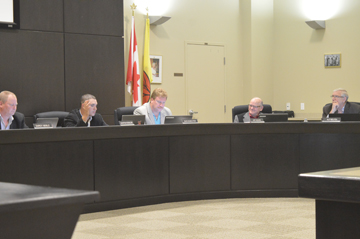 Photo by Tim Kalinowski- Cypress County council unanimously agreed to hold firm with Lansdowne Equity Ventures Ltd. over its development agreement terms at last Tuesday's meeting.
By Tim Kalinowski
Cypress County council was not in a negotiating mood last week as it turned down a proposal from Lansdowne Equity Ventures Ltd. to extend the deadline for completion of its Irvine 39 lot development for another five years.
"They are asking for extended financial support for five years," explained the County's planning supervisor Jeffrey Dowling. "And then if they haven't developed within that five year period, as a sunset clause, that this would be reviewed further by the County council. They also want to allow for phasing, (phased in development), and, if upon review after five years, that we would basically utilize the province's construction cost index for any further adjustments in terms of what kind of financial support might be written into amending the agreement."
Dowling suggested council bring in Lansdowne representatives as a delegation if councillors wanted some more back and forth or negotiation with them.
Coun. Dan Hamilton did not see the need.
"I don't think there is any back and forth in the way we discussed it last time," he said. "We said we are not extending anything, and they have got until December 31. And if they don't do anything, it's off the table. I don't know what the back and forth would be on that. It's cut and dry."
Back in August, council enforced a deadline of Dec. 31 on Lansdowne after the company informed Cypress County it would not be fulfilling the terms of its development agreement to begin construction on the lots in 2016. Lansdowne then suggested a new open-ended agreement (with no deadlines for completion) be reached between itself and the County while it searched for equity partners, or waited for the economics of the project to improve.
Council countered with the end of the year deadline, insisting either Lansdowne begin construction in 2016 as it had committed or lose its exclusive development agreement, and the taxpayer funding, it had for the project.
Coun. LeRay Pahl made the motion to receive Lansdowne's counter proposal for information (meaning take no council action) last Tuesday, effectively ending any further County discussions with Lansdowne.
"I agree (with Dan)," he said as he tabled the motion. "This thing could go on for another ten years and nothing gets done."
Council voted unanimously for Pahl's motion.