Special birthday party for a special lady
Posted on October 11, 2016 by 40 Mile Commentator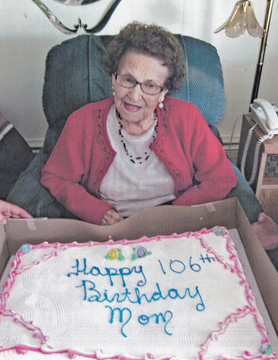 Photo submitted- Family and friends gathered at Pleasant View Lodge last week to help Mary Ell celebrate her 106th birthday.
By Jamie Rieger
A very special birthday party was held at Pleasant View Lodge recently to help Mary Ell celebrate her 106th birthday.
Family and friends gathered to listen to live music, which included Mary's favourite song, "Lucille" which guests said had Mary tapping her foot to the beat of the music.
Mary was born Sept. 26, 1910 to George and Rose (nee Nicholas). Her parents were two of many early immigrants to settle in southeast Alberta, coming from Odessa, Russia and first farming in the United States before coming to Canada. George and Rose and their children arrived in Bow Island in 1909.  Mary was just a toddler when Bow Island became a town in 1912.
In an interview with the Commentator in 2012, Ell recalled growing up in the Bow Island area.
"There was 10 of us and we had three miles to walk to school and had to go across the coulee to get there. Of course, we had to milk the cows and separate the milk all before we left for school. After school, we had to gather eggs. It was all hard, but it was a good life, too," said Mary. "I did everything under the sun. We had to haul water and heat it for washing clothes and bathing. Three of us had to use the same bath water, so we were always fighting to see who got in first."
Mary has always led an active life and was still completing in a weekly bowling league until she turned 103.
Ell has been blessed with five children, 16 grandchildren, 35 great-grandchildren, and 18 great-great-grandchildren, many of whom joined her in enjoying some cake and music at her birthday party.