Prentice among four people killed in B.C. plane crash
Posted on October 14, 2016 by 40 Mile Commentator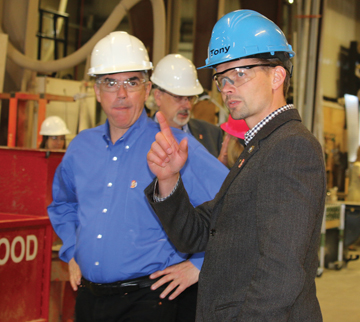 Commentator/Courier File Photo by Jamie Rieger- Jim Prentice is pictured with Tony Isaac of Truco Structures when he visited Bow Island in April, 2015 while on the campaign trail in the provincial election. It was confirmed on Friday morning that Prentice was among four people who died in a small-plane crash near Kelowna on Thursday evening.
By Jamie Rieger
It has been confirmed that former Alberta premier, Jim Prentice was killed in a small-plane crash, along with three others on Thursday evening.
The twin-engine Cessna Citation was en route from Kelowna to Springbank Airport, near Calgary on Thursday evening and disappeared from radar shortly after takeoff, at approximately 10:30 p.m.
Bill Yearwood, from the Transportation Safety Board confirmed on Friday morning that the plane's wreckage had been found near Winfield, B.C.
"The aircraft is destroyed; all persons on board lost their lives," Yearwood told the Canadian Press.
RCMP Cpl. Dan Moskaluk said in a press release, "Investigators located the crash site approximately four kilometres into a heavily wooded area east of Lake Country."
Prentice, 60 served as Alberta premier from Sept., 2014 to May, 2015 when the Progressive Conservatives lost to the NDP in the last provincial election.
Most recently, Prentice was an energy advisor for Warburg Pincus, an international private equity firm.