Redcliff Youth Centre in financial crisis; may have to close by December
Posted on October 18, 2016 by 40 Mile Commentator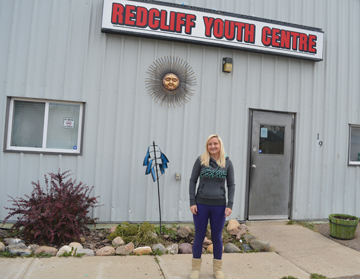 PHOTO BY TIM KALINOWSKI- The Redcliff Youth Centre is looking for urgent, immediate financial support to avoid closure by the end of December. Pictured: Youth Centre program coordinator Danielle Lank was out beating the bushes looking for financial support for her Youth Centre kids.
By Tim Kalinowski
The Redcliff Youth Centre may close by December without greater community support. Letters went out from the centre last week informing the public about the organization's financial difficulties after losing several key sponsors in the local energy sector, and due to a general decrease in donations during the current economic downturn.
Youth Centre program coordinator Danielle Lank was out doorknocking trying to drum up awareness and support last week.
"I am trying to do everything I can to keep this centre open because I know how important it is for these kids and the community as a whole," she says. "We found out recently how dire the situation was. And there is a possibility the Youth Centre may have to close. We are working really hard not to have that happen."
Lank says increased demand for the Youth Centre's services is also a factor in its current financial situation.
"In a way our  success has been our failure. When I first started the Youth Centre was maybe seeing 10-13 kids a night, and for September alone we had 20-30 kids. That's kind of low for us. We have months with 50 kids a night. But obviously more kids means we need more staff, and we need to find more money for that. It's kind of a vicious cycle for us at this point. We have been so successful, but we just haven't had the funds to be able keep up with that."
As a money saving measure, the Redcliff Youth Centre is now closed Mondays, explains Lank, and it is planning an emergency Christmas fundraiser to generate the funds it will need to break even in its yearly budget.
"Our saving grace at this point, we are hoping, is we are going to have a fundraiser. We're going to be selling these really cute, custom, wood Christmas ornaments. They will be selling for $15 a piece and we will be getting $8.00. At this point, this fundraiser could make or break us… If we can do well in the fundraiser, and the community can come together, and we can come up with a few extra thousand dollars, that would really help," she says.
At the same time, the Youth Centre's board and staff will be shaking trees and looking for new ideas to put into a long term funding plan to keep the centre operating in Redcliff for years to come. Lank hopes anyone in the community or area who can step up and help will do so. There is too much at stake, she says.
"If the Youth Centre closes, I don't know where it's going to leave these kids. Kids that are here literally every day from opening to close."
The Redcliff Youth Centre receives $12,000 in annual community grants from the Town of Redcliff, but depends on other charitable organizations and private donors for the rest of its funding. To get in touch with Danielle Lank call 403-548-2811.