Trudeau phenomenon hits the Hat
Posted on October 18, 2016 by 40 Mile Commentator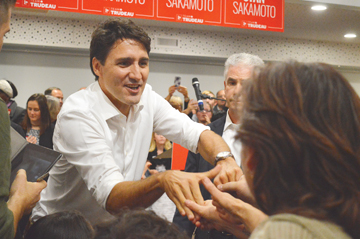 PHOTO BY TIM KALINOWSKI- Prime Miinister Justin Trudeau shakes hands with well-wishers after his stump speech for Liberal Party candidate Stan Sakamoto at the Beveridge building in Medicine Hat last Tuesday evening.
By Tim Kalinowski
Prime Minister Justin Trudeau was in the Hat last week to help bolster the campaign of local Liberal Party candidate Stan Sakamoto prior to the Oct. 24 byelection. Trudeau's visit was the first by a sitting Prime Minister since his father Pierre Trudeau made the trip down to the forgotten corner in the late 1960s.
Although many Conservative Party supporters in the region lit up the social media airwaves expressing their disbelief or outrage that Trudeau would make the trip into what has been an iron clad riding for them for over 40 years, in the end native curiosity and Trudeau's celebrity allure brought about 2,000 locals out to a campaign rally at the Beveridge building last Thursday evening.
The line up to get in to see Trudeau stretched all the way around the block. Most coming out to the rally expressed their curiosity about Trudeau: To see if the man lived up to the hype. But for one local lady waiting near the front of the line, about two hours before the rally started, her decision to see Trudeau in person was intended to send a message to local naysayers.
"I like him as a human being," said Savannah Holland, matter-of-factly. "Whether or not I agree with everything as far as political goes, I am not going to agree with anyone all the time. I do believe he is trying to make Canada a better country for families. He very much promotes love and acceptance of all kinds of people, and that is important to me. I also believe its important for him to come and see the city which some believe is one of the hardest hit in the economy. I think it's nice to show he is not forgetting we exist."
As already mentioned, Trudeau's visit drew strong feelings, both negative and positive. While the hundreds lined up to try to get into the Beveridge to see Trudeau, across the street in front of the Monarch Theatre about 100 people met the Prime Minister's visit with signs and placards critical of his party, and expressing more than a little personal animosity toward the man himself.
"I am here representing, I think, a lot of Alberta folks," said Debbie Daynham, clinging to her own "Trudeau hates Alberta" placard. "I hope Mr. Trudeau takes a message. My message is: You know what? We in Alberta are all hurting, and Fort McMurray is hurting. The oil patch and the farmers are hurting. And he needs to take note that we need help. We are proud people here, but we need help and we need our government behind us. We are all part of Canada."
Mr. Trudeau arrived inside at the Beveridge at about 7:30 p.m. He took off his jacket and tie and walked through a line of well wishers, cheering voices and cell phone flashes toward the podium, shaking hands and exchanging hugs and high fives along the way.
Trudeau proceeded to deliver a barnstormer of a speech. The 400 inside heard it first hand while his voice echoed out onto the street through a PA system.
After the speech concluded, Trudeau waded into the crowd taking selfies, receiving pats on the shoulders and accepting hugs from well-wishers. He then waded out into the crowd on Second Street.
The protesters' signs were clearly visible and Mr. Trudeau could not help but see them. But he was quickly swept up and away by a cheering crowd hoping for more selfies, hugs and high fives.
Trudeau was carried further and further away, like driftwood caught on an outrushing tide, with only periodic flurries of cell phone flashes showing his location in the crowd through the twilight.
Back in the Beveridge there was a sense the show had moved on.
Liberal Party candidate Stan Sakamoto received back pats, hugs and handshakes and fought back his emotions, somewhat unsuccessfully, as good vibrations continued to wash their way around the room.
Sakamoto said he was truly thankful for this moment.
"Seeing the people that were here, it is just a thrill. I am humbled, but I am just so excited that this happened… I hope history repeats itself," he said, referring to then Prime Minister Pierre Trudeau's stumping for the last winning Liberal candidate Bud Olson in Medicine Hat in 1967.
Early the next morning Prime Minister Justin Trudeau arrived at Stan Sakamoto's campaign office on Third Street looking fresh and casual as he took questions from the local and national media present. Trudeau, who last visited the city three years ago as a Liberal Party leadership candidate, thanked Hatters who have always shown him such enthusiasm.
"It's good to be back here in Medicine Hat," he said. "We had an outstanding level of energy last night from people who are realizing there is a choice in Medicine Hat-Cardston-Warner. The fact that Stan Sakamoto has such deep ties and has worked to grow a business here in Medicine Hat, and understands what it takes to grow the economy. He understands the people in south eastern Alberta deserve a real voice in Ottawa."
Trudeau then explained why he felt it was important for him to come to this riding despite the historical difficulties the Liberal Party has had garnering votes in the region.
"One of the things we saw in the election last year was the people are a lot more open to hearing different points of view. If someone had said a year and a half ago that Alberta was going to vote NDP as a government people might have shrugged (it off)… Peoples' votes matter, and I think the crowds that came out last night really reinforce that.
"But it is also about saying this is a government that really listens, that respects people, that wants to hear a broad range of views, and that values every corner of the country in our decision making, whether of not we have a candidate or an elected MP. But, of course, I'd love to have an elected MP from Medicine Hat-Cardston-Warner," Trudeau said with a grin.