Overwhelming victory for Motz; Conservatives retain seat in Medicine Hat-Cardston-Warner riding
Posted on October 24, 2016 by 40 Mile Commentator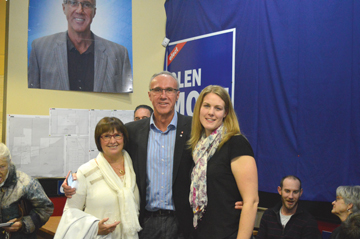 Photo by Tim Kalinowski- MP elect Glen Motz receives well wishes and congratulations from supporters at his campaign office on Monday night.
By Jamie Rieger
Conservative candidate Glen Motz came out of the starting gate running and didn't look back when the polling stations for the Medicine Hat-Cardston-Warner byelection began reporting their results. Motz took an early overwhelming lead with Liberal candidate trailing at a distant second.
There were early hand shakes and congratulatory hugs at the Motz camp even before the final votes were tallied, but Motz had a strong enough lead for the victory to be declared with 125 of 223 polling stations reporting
"I want represent this riding well. I want certainly be a voice of reason for the people here, and take their issues forward… I know I might have a challenge living up to peoples' expectations, but I am committed to working my hardest. I am looking forward to working with my colleagues who are committed to making life better for Canadians as I am for Albertans and Southern Albertans. We will do everything we can to ensure the values of the people of this riding are upheld and move forward," Motz said at his campaign headquarters.
Six candidates including Motz, Sakamoto, Christian Heritage Party candidate, Rod Taylor; Libertarian Party candidate, Sheldon Johnston;
NDP Party candidate, Bev Waege; and Rhinoceros Party candidate, Kayne Cooper were vying for the vacant seat in Ottawa.
The Medicine Hat-Cardston-Warner riding was formed following the 2012 general election when the electoral boundaries were re-drawn. With a population of 102,847, the riding has 76,911 registered electors (excluding those who registered on election day).
The Liberal Party has not elected a Liberal MP since 1968 when Bud Olson, was elected under the Social Credit Party, but crossed over to the Liberal Party and was re-elected under the Pierre Trudeau government that year.
Full results will be posted on the Commentator/Courier website on Tuesday.