Foremost receives sustainability award
Posted on October 25, 2016 by 40 Mile Commentator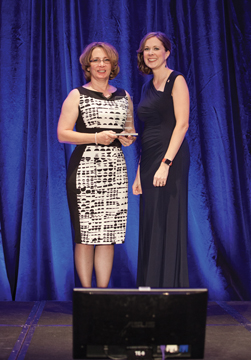 Photo submitted
By Jamie Rieger
The Village of Foremost was recently honoured with the Alberta Urban Municipalities Association's Municipal Sustainability award in the under 2,500 population category for its Unmanned Air Systems range.
"It was nice to be recognized for all the work that has been down at the Foremost UAS range," said mayor Ken Kultgen. "It has been a long time coming with a lot of effort and a lot of work."
The award was presented to the community that goes beyond in promoting sustainability.
In submitting their application for the nomination, they described the UAS range as "a test facility for western Canada, Canadian, and international companies and academic institutions to develop and commercialize new technologies for use in UAVs".
"That really explains it well and how we fit in with this award," said Kultgen.
The Village of Foremost was first approached by the Canadian Centre for Unmanned Vehicle Systems (CCUVS) in 2008 and discussions led to the possibility of utilizing the local airport for testing of unmanned aircraft systems.