Hyland wins long-service award
Posted on October 25, 2016 by 40 Mile Commentator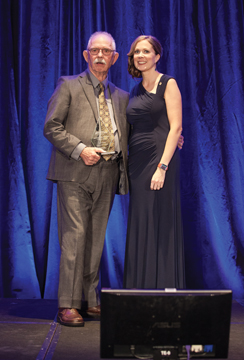 Photo submitted
By Jamie Rieger
It has been more than four decades since Alan Hyland first entered the political arena and over the years has accomplished plenty for both the community and the province.
It is for all of his contributions and years of working for the people, that Hyland was nominated for a prestigious provincial award for distinguished service.
Hyland was first elected in 1969 when he was nominated in a local byelection.
"I guess I thought I could help the people, help the community," he said.
Following that election, Hyland decided to try his hand at provincial politics and ran for the Progressive Conservative party, narrowly winning his first election by three votes in the 1975 general election. He held the seat for two more terms, winning again in 1979 and 1982. When the Cypress-Redcliff electoral district was formed, he ran in the 1986 and again in 1989.
Hyland said when he first served in Edmonton, there was more time spent in caucus and more time spent doing things for yourself.
"In Edmonton in those years, things were a lot different. We did not have the help that they do now," said Hyland. "You dealt with the problems yourself and you did your own homework."
Hyland said it took him a term to learn how to work on something, then have to drop it when a more pressing issue arose.
"We were there from Monday to Friday. In those days, evey piece of legislation had to go through caucus and it would take a lot of time. Saturday's were spent in the constituency," he said, adding that there would be two three-month sessions a year, one in the spring and another in the fall.
It was in 1993 that Hyland retired from provincial politics to spend more time at home in Bow Island.
"I decided to come home and raise our kids. When Klein was elected, they were in Grades 3 and 9," he said.
It did not take long before Hyland was throwing his hat back into the ring in the municipal political arena.
Bow Island mayor Ralph Bateman was not planning on running for another term, so I did," he said.
As mayor, Hyland started attending the mayors and reeves meetings and was soon involved in establishing the Palliser Economic Partnership, an organization focused on improving economic development in the Palliser region of southeast Alberta.
Hyland, along with then County reeve, Leonard Mitzel, were instrumental in getting Family and  Community Support Services going province-wide.
Hyland considers PEP and FCSS as two of his greatest accomplishments as a politician.
He noted that currently, as a municipal politician, there are frustrations in trying to get work done in the community when there is little communication coming from the provincial NDP government.
"It is hard to make decisions based on information we can't get. For years, we have done revamps on our infrastructure," said Hyland. "We are ahead of other small communities when it comes to that. We've set our priorities and have stuck with them."
Nominating Hyland for the distinguished long-service award was an easy decision for Bow Island town council.
"I think this award is well-deserved and we appreciate his dedication. He has condtributed a lot to the community over quite a length of time," said Bow Island mayor, Gordon Reynolds.
Hyland said he was honoured to be nominated for the award.
"It is special knowing the people you work with nominate you, but it is not about me. It is teamwork, the whole group that makes it work. I would not be able to do it alone," he said.