Vandals destroy Halloween decorations
Posted on October 27, 2016 by 40 Mile Commentator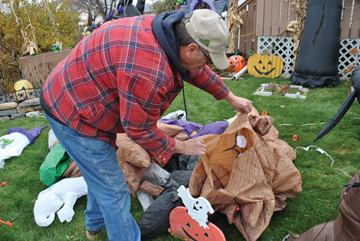 Photo by Jamie Rieger- Bow Island resident, Walter Krysiak shows the slash that destroyed one of several inflatable Halloween decorations in his front yard. A number of other similar inflatable decorations at other locations in town were also damaged on Wednesday evening.
A number of inflatable Halloween decorations were slashed at multiple locations in Bow Island during the evening of Oct. 26, causing approximately $800 worth of damage.
The RCMP detachment were dispatched to call regarding the damaged Halloween decorations at approximately 9:00 p.m. on Wednesday evening.
Anybody who has information regarding the individuals responsible or has other information to contribute can contact the Bow Island detachment at 403-545-2784 or Crimestoppers at 1-888-222-TIPS.