RCMP continue to investigate vandalism incidents
Posted on November 1, 2016 by 40 Mile Commentator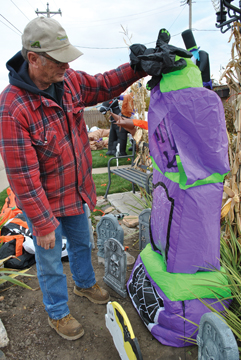 Photo by Jamie Rieger- Walter Krysiak shows some of the slashes that destroyed several of his inflatable Halloween decorations last week and caused between $700 and $800 in damage. The decorations at the Krysiak residence were among several in Bow Island that were vandalized last week. The RCMP are continuing their investigation.
By Jamie Rieger
Walter and Carol Krysiak, along with other Bow Island residents were disheartened when they got home on the evening of Oct. 26 and found vandals had destroyed a number of their inflatable Halloween decorations.
For the Krysiak's, having a well-decorated yard for Halloween is a delight and part of a tradition, especially when they can see the happy faces of the young trick-or-treaters, who get their pictures taken in front of the decorations and send thank-you cards to the Krysiaks afterward.
"I'm frustrated. We try to have some fun here for the little ones," said Walter Krysiak, who had between $700-$800 worth of damage at his property. There was similar damage done at other residences in town.
According to a Bow Island RCMP press release, a number of inflatable Halloween decorations were slashed at multiple locations in Bow Island during the evening of Oct. 26, causing approximately $800 worth of damage.
The RCMP detachment were dispatched to call regarding the damaged Halloween decorations at approximately 9:00 p.m. on Wednesday evening.
Anybody who has information regarding the individuals responsible or has other information to contribute can contact the Bow Island detachment at 403-545-2784 or Crimestoppers at 1-888-222-TIPS.
As of press time on Monday, there were no further updates on the investigation.