Redcliff Youth Centre kicks off ornament fundraiser drive
Posted on November 1, 2016 by 40 Mile Commentator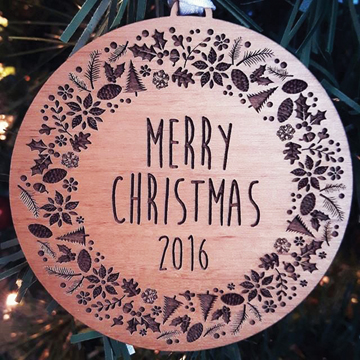 Submitted photo- The Redcliff Youth Centre is hoping to raise enough money to stay open after December by raising emergency funds through their custom Christmas ornament sale.
By Tim Kalinowski
The Redcliff Youth Centre Christmas ornament fundraiser campaign kicked off last week in town. The Youth Centre is hoping to sell lots of these custom, wood ornaments to help raise emergency funds to keep the facility open after December.
"I am hoping we can sell a lot of ornaments and make enough money to give us some more monetary support until we can start figuring out a long term solution," explained Redcliff Youth Centre coordinator Danielle Lank last Tuesday. "We are hoping this can do really well."
The ornaments are $15 a piece or two for $25. For every ornament sold the Youth Centre receives eight dollars. The wooden ornaments come in premade shapes but can be custom designed to reflect whatever message the ornament buyer wishes to express.
"The general shape, star or round, will stick, but you can customize them to be anything you are looking for," said Lank. "So you can write in there 'Babies First Christmas,' 'Best Teacher' or couples' names inside, that kind of thing."
Ornaments can be purchased at the Youth Centre itself, but order forms are also available at Redcliff Dental and the Redcliff Legion.
"You can come to the Youth Centre directly and buy them here. We do take cash or credit. All cheques need to be made out to Redcliff Action Society for Youth," said Lank.
Lank was hoping many in the community and surrounding regions will purchase enough of these ornaments to keep the Youth Centre open into the New Year.
"These ornaments will be a great gift for yourself or someone else, but by purchasing one or more of these ornaments you are really giving a gift to these kids because it is helping to keep the centre open that much longer," she said.