Battle for Rhine still holds plenty of memories for Osgood
Posted on November 8, 2016 by 40 Mile Commentator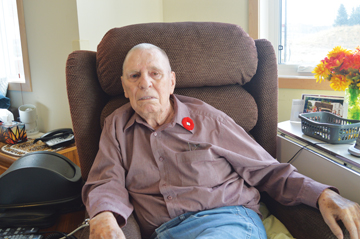 Photo by Tim Kalinowski- Howard "Fat" Osgood fought in many tough battles during WWII, but none tougher than the Battle of the Rhine.
By Tim Kalinowski
The Second World War may have ended 71 years ago, but 91 year-old Howard Osgood still remembers it like it was yesterday. Richard Howard Osgood, also known as "Fat," was born and raised in Redcliff. He landed in France in August of 1944 as a member of Highland Light Infantry. He fought his way through Europe until 1945, seeing a lot of action along the way. But no action he saw was more deadly and hairier than when he and his fellow Highlanders crossed the Rhine into Germany.
"We came back to the Hochwald and Reichwald Forest," remembers Osgood. "We dug holes in there about four feet deep and put the blankets in there and covered them up with branches from fir trees. We woke up in the morning and they said (General) Montgomery is coming. Everybody turned out the best they could, and the Brits said: 'Well, you're the lucky boys. You're going to be the first to cross the Rhine River.'
They said they were going to take us down part way by truck. We didn't see no trucks, but we did see a lot of walking."
This was a big deal for the Allies at the time. The first time they would fight on German soil, instead of French, Belgian or Dutch. The Germans reinforced all along the river at potential crossings, and were ordered by Hitler to hold no matter the cost in lives and blood. Elite German paratroopers were assigned the front line duties.
Of the fighting that followed, General Montgomery, the 21st Army Group commander, wrote "the enemy parachute troops fought with a fanaticism un-excelled at any time in the war," and, "the volume of fire from enemy weapons was the heaviest which had so far been met by British troops in the campaign."
Osgood says that about sums it up, but Montgomery wasn't the one being shot at. He was.
"We got in the boats, those little nine people boats we had, and when those shells hit that Rhine you figured it was going to run into you," remembers Osgood. "Our boat got across there safely, but some of the boats were hit dead direct, and there was nothing left of the boats or the guys in them."
Osgood says fighting on the other side was close quarters and incredibly fierce. He barely made it out alive.
"Jerry was doing a lot of shelling. We got across the river and dug into some holes to get out of sight. We decided to take the two little towns there, Bienen and Speldrop. We took those two towns, and then I got blown into a shell hole about 30 foot deep.
"After awhile they finally dragged me out of there, and they took me back to the barn they were using as a field hospital. They stretched me out there and the doctor checked me over and then said stay here for a few days and then you go back up there to the front lines. So that's what we did."
A chronicle of the battle for Rees, Speldrop and Bienen found on canadiansoldiers.com gives a further account of the deadly nature of the battle Osgood's Highland Light Infantry (HLI) took part in.
"The HLI was ordered to secure Speldrop," it reads. "Elements of the British Black Watch were cut off and surrounded in Speldrop when the HLI's attack went in during the late afternoon, advancing through the outskirts of Speldrop into stubborn resistance from German paratroopers.
"Despite being forced to attack over open ground, heavy supporting fires from six field regiments, two medium regiments and a pair of 7.2-inch batteries assisted the HLI forward.
"Fortified houses within Speldrop could only be taken by the use of Wasp flamethrower carriers and artillery concentrations, and fighting there continued into the morning of 25 April, 1945. The trapped Black Watch men were relieved at a cost of 10 HLI dead and 13 wounded."
While the battle took a large toll on Canadian and British forces, says Osgood, it took an even larger one on the Germans they were fighting.
"I remember behind one of them the farm buildings, there was a stack of (dead) Germans about ten feet high and twice as long."
Osgood ended his war in Germany guarding German prisoners at what once was an Allied PoW camp. When he came back to Canada he allowed his restless spirit to roam, taking a variety of different jobs.
"I tell you I worked at everything. I was even a pilot… I was shovelling sh*t out of a barn, and I would pile it here and pile it there," says Osgood with a mischievous twinkle in his eyes.
Osgood eventually re-enlisted in the army to head over for the Korean War, but admits he had a bit of an attitude problem when it came to his so-called "superior officers," and found himself left behind. He decommissioned for a second time and continued his wandering ways until finding a position with the CNR. When he retired, he returned to his hometown of Redcliff. He is still a Redcliff Legion member, but due to poor health and poor eyesight not an active one.
"I can't go to the Remembrance Day ceremonies anymore because I can't see worth a damn! The last one I attended was in Redcliff. Here I am marching along, and when I finally look back the rest of the members are all over there. I slowed down and moved over about six steps and I fit right back in the hole. There's nothing like leading the parade, I guess," says Osgood dryly.