Raising awareness to China's organ harvesting practices
Posted on November 8, 2016 by 40 Mile Commentator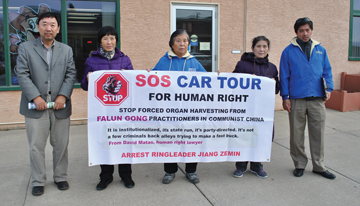 Photo by Jamie Rieger- A small group of Falun Gong practitioners displayed their public awareness banner in front of Bow Island town hall last wee to raise awareness to organ harvesting, particularly with Falun Gong members, that is taking place in China.
By Jamie Rieger
A small group of Falun Gong practitioners stopped in Bow Island last week as part of their nation-wide car tour to raise awareness to the lucrative business of organ harvesting in Communist China.
Michael Wing, a  Falun Gong volunteer from Calgary said practitioners have been visiting communities small and large across Canada to raise awareness to organ harvesting practices taking place in China.
"This has been a 10-year long journey and raising awareness really makes a difference," said Wing.
The car tour comes on the heels of the release of an 800-page report by former Canadian Secretary of state David Kilgour, human rights attorney David Matas, and investigative journalist Ethan Gutmann, whose investigation concluded that up to 1.5 million Falun Gong practitioners have been killed since 2001 for their organs.
"The findings from the report are shocking. There are 60,000 to 100,000 killed ever year and it is all government sponsored," said Wing.
When asked how investigators were able to obtain such detailed information in Communist China, Wing said that because there is no freedom of the press and it is difficult to hold them accountable, Falun Gong needs to get its message out any way it can. Collecting data for the 800-page report was also challenging, but not impossible, according to Wing.
"They have become reckless because they think they can do anything they want," he said, adding that in one case, an undercover agent was able to obtain information through a phone call. Also, doctors and other medical workers who have defected, have provided testimony and evidence for the report.
"The hospitals do not want to stop because they are making a ton of money," he said. "They take the organs and not just kidneys. They take corneas, hearts, and lungs. Whatever is left over is dumped into the hospital incinerator."
Seventy-two year old, jingling Huang said that as a Falun Gong practitioner in China, she was sent to four different places where she was held prior to being sent to a labour camp.
According to her, she was sleep deprived, was not given food, was not able to use the washroom, and was given drugs.
"They were trying to brainwash her, to re-educate her with their propaganda," said Wing.
Speaking through a translator, Huang said that her daughter is in prison in China for merely trying to help another girl.
Huang said she was placed in the labour camp in 2007, but because of health issues with her heart and liver, was released a year later. After applying for refugee status, she was able to come to Canada.
"Other countries have enacted legislation, but Canada has not yet done that," said Wing.
The report was to be presented to the subcommittee of international human rights on Nov. 3.
"This is a step in the right direction," said Wing.
Wing said Falun Gong is seen as a threat to the Communist government due to its large following and organ harvesting of Falun Gong practitioners has become a way for the government to reduce the population and use organ harvesting as a way to make money.
"Falun Gong is peaceful, studies the Buddhist principles, but that does not matter. The 100 million FD outnumber the Communists and government fears these people because they have a different belief than the state," said Wing.
The China International Transplant Assistance Centre website cites prices for various organ transplants, including corneas ($30,000), heart ($130,000-$160,000), kidney ($62,000), liver (($98,000-$130,000), and lungs ($150,000-$170,000).