Cypress County schools hold heartfelt Remembrance Day ceremonies
Posted on November 15, 2016 by 40 Mile Commentator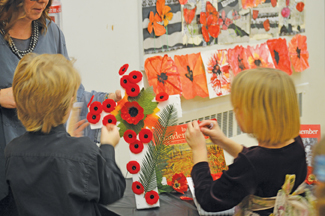 Photo by Tim Kalinowski Schuler students pin their poppies to special cross to honour Canadian soldiers.
By Tim Kalinowski
Local schools in Cypress County marked the Remembrance Day with special ceremonies put on and led by their students last week.
Last Wednesday morning Eagle Butte High School in Dunmore staged an elaborate production, which blended choral and instrumental music with solemn ceremony, lighting and video presentations, to make a wonderful moment of remembrance for everyone who came out.
The message on the day for students and guests to ponder was to remember those local soldiers who fought in wars, or who have given their lives for Canada, were normal people from small towns and family farms, (very much like Eagle Butte students in both age and mindset), who found themselves in extraordinary circumstances.
Special guests for the event were the colour party led by members of the Royal Canadian Legion Branch No. 6.
A definite highlight of the ceremony was the Eagle Butte High School Choir's special rendition of the folk/ rock classic "Dust in the Wind" to honour those soldiers who have fallen in Canada's wars.
On Thursday morning Irvine School students held a special Remembrance Day program in the school's gymnasium. Special guests on the day were Rev. Chelsea Masterman, who led the students in prayer for world peace, and Afghan War veteran Capt. Joel Grineau.
Grineau showed Irvine students a slideshow from his time in Afghanistan, and explained all the gear and machines Canadian soldiers used. He told the students about having to shower in a special module on the base where each soldier was only allowed three minutes a day, due to the scarcity of water. He told the enraptured kids several small stories about what daily life was like for both the soldiers and the local people they worked with in Afghanistan.
He also brought several pieces of his military gear so the kids could get a closer look at them.
After Capt. Grineau finished speaking, the school held a special flag presentation and wreath-laying ceremony led by Capt. Grineau, Rev. Masterman, Christian Burkett, Braeden Fergusen, Noah Wagner and Savanna Gold.
Later, when the Grade 3A class read out Postcards for Peace to Canadian soldiers, thanking them for their service and for giving them a chance to have peace at home by serving abroad, Capt. Grineau had tears in his eyes.
On Thursday afternoon Schuler School held its own Remembrance Day celebration, which showcased special Remembrance Day recitations and songs sung by the classes. Pianist Mrs. Sehn accompanied the students as they sang "O Canada." The Div. 1 class recited "In Flanders Fields" to start off the celebration. Div. 2 followed this up by singing "Little Poppy." Finally the talented trio of Arinn Driediger, Trudy Loewen and Dannica Beck sang a beautiful song together called, "A Wish for Peace."
Special guests for the day included Redcliff RCMP members Cst. Derek Kirstein and Cst. Jeff Waites, who wore their full dress serge for the visit, and keynote speaker Steve Driediger. Driediger spoke of those men and women who for religious reasons cannot fight in wars, but still help in other ways when war comes upon them. Driediger highlighted the stories of two conscientious objectors from the Second World War who played important roles in the war.
The first was André Trocmé, a pastor from the French village of La Chambron-sur-Lignon, who led a movement within the small community of 3,000 to bring in and hide over 1,000 Jewish Children from the Nazis.
The second was Cpl. Desmond Doss, the American Army medic who is the subject of Mel Gibson's latest movie "Hacksaw Ridge." Doss due to his religious beliefs refused to touch a weapon, but nonetheless took part in several battles and saved hundreds of lives. He eventually won the Medal of Honour for his courage during the Battle of Okinawa by going into the hottest fights to drag dozens of wounded soldiers out to safety. He was wounded himself while doing so.
The Schuler School ceremony concluded with students coming two or three at a time to pin their poppies on a special cross in a personal act of remembrance for all the veterans who have served and continue to serve in Canada's military.