Motz sworn-in as Member of Parliament
Posted on November 15, 2016 by 40 Mile Commentator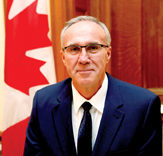 Submitted Photo MP Glen Motz sworn-in Monday on Parliament Hill.
Commentator/Courier
Glen Motz was sworn-in as the Member of Parliament for the federal riding of Medicine Hat-Cardston-Warner, during a ceremony on Parliament Hill on Nov. 14.
Motz, joined by family and friends, took the official oath before Marc Bosc, Acting Clerk of the House of Commons.
"I am truly humbled to have such an incredible honor to serve the great people of Medicine Hat-Cardston-Warner, and all Canadians, as a Member of Parliament," MP Motz stated following the official ceremony. "Words can't really describe the overwhelming sense of responsibility and privilege I feel in being chosen to be the representative for such an amazing and tremendously diverse riding.  I will never forget this day, nor the obligations that come with this office."
His first day in the House of Commons is scheduled for Wednesday, Nov. 16, prior to Question Period. The introduction will be televised on CPAC at 11:30 a.m. MST.