Sunny skies for solemn Remembrance Day in Redcliff
Posted on November 15, 2016 by 40 Mile Commentator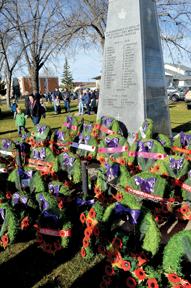 By Tim Kalinowski
Redcliff could not have asked for nicer weather for its annual Remembrance Day ceremonies. The unseasonably warm November weather had locals coming out in droves.
It was a fantastic spectacle to see the cenotaph glistening in sunlight, the Canadian flag hovering jauntily above the crowd at half mast, and the uniformed ranks of the colour parade, local Scouts, Brownies, Beavers and Girl Guides, Legion members, Knights of Columbus and local fire and police representatives all lined up in good order.
Canadian and British soldiers from CFB Suffield and BATUS were also on hand and active in the Remembrance Day ceremony as always. BATUS also provided a chopper flyover to kick off the wreath laying ceremony, which had a fabulous turnout from the general public.
Mayor Ernie Reimer represented the Town of Redcliff, and laid a wreath for the occasion. Deputy Reeve Dan Hamilton laid a wreath on behalf of Cypress County.
The pageantry of the cenotaph was a fitting and colourful conclusion to a which started out earlier in the morning with a 300 person Colour Parade from the Redcliff Legion along Broadway Avenue before turning up Second Street to Parkside School.
The Parkside School gymnasium was packed full to listen to words and music honouring Redcliff's fallen soldiers and veterans. The Roving Choir provided the musical accompaniment on the day.
Veteran George Hope read out roll of Redcliff's serving members and honoured dead in the First World War, Second World War and the Korean War. Hope's daughter Lauren Boychuk also read a beautiful poem she had written which also honoured those local soldiers who had served in Canada's wars, and then came back home to build a great community for their families. Major (?) Cressy, a Canadian Army officer with a thick Scottish burr, stepped in at the last minute to do the recitation of "In Flanders Fields," which was much appreciated by all in attendance.
Rev. David J. Carter presided over the service, and presented a heartwarming sermon in honour of Canada's war dead and veterans. Carter wove humour, reflection and personal memory together.
Some of his most touching reflections came when he spoke of his father, a homefront Royal Canadian Navy chaplain in Saskatchewan on HMCS Queen Regina, whose duty it was to inform local families and wives of the sad news when their loved ones were killed overseas in the Second World War. Carter also spoke about the generations of dead soldiers whose graves he continues care for at his small chapel of St. Margaret's at Medicine Lodge Coulee.
Carter continued on the theme of universality of service and suffering; of every individual doing what needs to be done, and bearing their own burdens, in times of war, and in its aftermath.
"Many will never return," said Carter focusing on soldiers specifically. "Many did come back who were wounded in many ways, mentally, physically. And of course on the home front, sometimes we do indeed forget that there was such pain on the home front. Pain that is cyclical and continues to resonate in so many different ways… I look at these little short persons, (children present here today), and my prayer in my heart is I hope to God they never have to march off to war."