Brown earns prestigious R.W. Hay award
Posted on November 22, 2016 by 40 Mile Commentator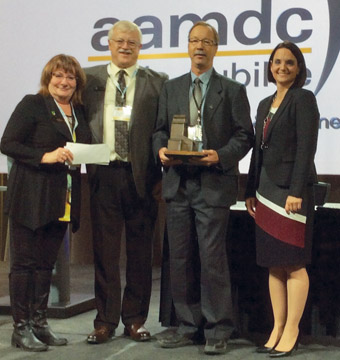 Submitted photo - County of Forty Mile administrator, Dale Brown (second from right), was awarded the R.W. Hay award for excellence in rural administration at the AAMDC convention in Edmonton.
By Jamie Rieger
County of Forty Mile administrator, Dale Brown was taken by surprise when he learned at the recent AAMDC convention in Edmonton he was the recipient of the R.W. Hay award, an award presented for excellence in rural administration.
"Yeah I was pretty surprised to be nominated by my peer group. I was happy to be recognized," said Brown.
Brown was nominated by members of County of Forty Mile council, who provided a bio of Brown's career with the county when they submitted the nomination package for the award that is presented by AAMDC, in partnership with the Society of Local Government Managers (SLGM).
"Brown has been employed by the County of Forty Mile for the past 43 years, starting as the records and service clerk. Throughout his career he has had the opportunity to experience most facets of municipal government operations.  The term "hands on experience" comes to mind when you review Dale's work history.  He has experienced the realism of digging ditches, operating heavy equipment, building roads, declaring local states of emergency, managing staff, managing million dollar projects and working with government agencies, municipal partners and the general public to achieve common goals."
As administrator since 1998, Brown has tackled county finances with professional fiscal conservatism.
"(He) quickly set to work on the County's budget and financing; which at the time was in a "borrowing state" to operate.  The County no longer has to borrow to operate, in fact has reserves set aside for possible budget shortfalls and is now also running an upgraded fleet of equipment and service vehicles."
In 2010, when the County built a new public works shop, Brown handled the challenges, which included legal action.
"Dale handled the difficult situation with professionalism, ensuring the County came out ahead and would be able to finish the project as planned.  Dale also ensures grants are filed in a timely manner and all the MSI our County needs is applied for, with as much follow up as needed, to ensure our success."
Brown has also been involved with emergency situations, including a recent wildfire where spray planes and water bombers were utilized.
Brown received his Certificate of Local Government on November 23, 1983 and has served as Zone 1 Director for A.R.M.A.A, and served over 6 years as the Foothills Little Bow Secretary.  Another highlight in his Administrator career is when he served as the manager of the S.E. Alberta Water Co-op, which has brought water to over 400 service outlets within our rural county to date, he was a main part of the Highway 3 Water Commission and took on the management and administration of the current Foremost Water treatment plant project; a project that will see potable water in 3 more Hamlets within our County along with a rural water line for farms and acreages to tie on to.  These three projects have helped residents receive an adequate water supply across the County.