Local farmer's yard and land to be ploughed under by Hwy. 3 twinning
Posted on November 22, 2016 by 40 Mile Commentator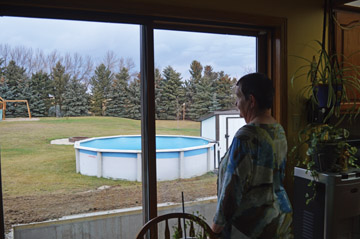 Photo by Tim Kalinowski - Brenda Fischer looks out her kitchen window to the exact spot where the eventual Hwy. 3 twinning will come through. Fischer says it will one day be too late for her farm, but she hopes to get a message out in the meantime of the importance of preserving farmable land in Alberta and Cypress County.
By Tim Kalinowski
Since the late 1950s Brenda Fischer has lived on her family's land just outside of Seven Persons. She went away for a few years to get her education, but outside of this one brief period she has been rooted firmly to where she grew up. Her family continues to farm on the original, irrigated section, which still uses a rare section pivot. Her parents' original home still stands in front of the newer one she and her husband Alvin built over 40 years ago.
Things might have carried on just so for another few generations but for the fact the Ministry of Transport decided in the late 1960s to reroute Highway 3 from downtown Seven Persons to a few miles over, cutting across the corner of her family's land.
Officials warned them one day the Number 3 would likely expand, and Brenda knew the old house might have to go. However, it wasn't until 2010, the year the government tabled its latest plan to twin the highway, when Brenda began to worry. The proposed route as it stands would not only destroy both of her houses, it would also cut right though the middle of her home section of prime agricultural land.
"At my age being displaced from the yard, is not as bad as what will happen to farm part of the land," she says. "If you look at the plan, our farm gets chopped up fairly significantly… A yard at best is maybe five acres; what will happen to the other 600 plus acres is, to me, even more sad."
Brenda says she tries not to think about the day she will be forced to move, and her family's land will be turned under to make way for progress. She also does not intend to stop living her life her own way because of it.
"You cross the bridge when the bridge comes," she says. "I am not living my life wringing my hands and worrying about it. I continue to live my life. Right now I am in the process of adding on to my house; I am adding a sun deck onto the back. I will just keep living until I am packing, or I am not the one who has to pack."
Brenda says she will take what comes, but she hopes there is a higher purpose she can serve in the mean time by speaking up for the preservation of agricultural land. She says she is disappointed with governments at all levels when they keep compromising by allowing agricultural land to be destroyed for the sake of building highways, housing subdivisions and parking lots.
"My main concern with division of the highway is not wanting to stand in the way of progress, but that there is, first of all, the volume of traffic to warrant that kind of expense to Albertans and, secondly, in the planning, the importance of trying to maintain as much farmable land as can be maintained. And definitely to maintain in our area as many irrigated acres as can possibly preserved. Once that agriculture land is gone it never comes back."
She hopes the plan to twin Highway 3 is still a long way off, and she won't have to deal with the consequences of it in her lifetime. Brenda is certainly not interested in moving anytime soon.
"When we built this second house many years ago I told me husband the next move is either Hillside or Sunnyside (cemetery or seniors' home). I am not a person who is interested in building new houses every few year, living in them for awhile, and then starting over from scratch. I have lived here most of my life. I moved here in 1958 with my parents, and I have pretty much been here ever since," she says.