End of an epoch as century-old I-XL Pressed Brick plant in Redcliff demolished
Posted on November 23, 2016 by 40 Mile Commentator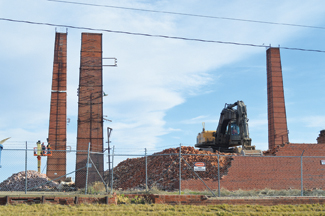 Photo by Tim Kalinowski Heavy machinery tearing down I-XL Pressed Brick plant in Redcliff on Wednesday.
By Tim Kalinowski
Redcliff lost another piece of its industrial history as the I-XL pressed brick plant was demolished in the community on Wednesday. The plant closed in 2004, and was the last of its kind in town. At one point there were three brickworks in total in Redcliff, all in operation prior to 1913. At one point the plants mined clay directly out of the Redcliff hills to turn into the bricks produced; later more materials were brought in from the Cypress Hills.
The brickworks, like the glass factory, were originally drawn to the community by the promise of cheap natural gas to heat their kilns.
Redcliff historian Cliff Dacre says the loss will be felt keenly, but was reassured by the fact there will one day be a heritage park on the site to mark this end of an era in town history.
"I think what is in their minds is to leave a few of the materials up there so there would be a reminder of the plant. It is a loss to the town, but it was something that was going to happen anyway. It's nice to hear there will be some indication of the press brick being in that location."
According to town officials I-XL applied for a demolition permit for the plant two weeks ago. The company had previously been informed by provincial officials the site was considered unsafe, and had to comply with Alberta's regulations on the clean-up of former industrial sites. I-XL opted to do so by demolishing the old plant.
Mayor Ernie Reimer, whose son Bart used to work at the Redcliff Pressed Brick plant, said he was saddened by the necessity of demolishing the old building.
"We actually had Malcolm Sissons, who owns the plant, in town hall yesterday (Nov. 22), and he informed us the demolition was happening (this week). We had expected it, but it is a sad demolition. That plant has been there since 1912; at one time it was Redcliff Pressed Brick. In 1921 it became I-XL Industries' plant. Over the years it employed a lot of people, and it supported a lot of local families throughout the years."