Coats for Kids campaign brings warmth to those in need
Posted on December 6, 2016 by 40 Mile Commentator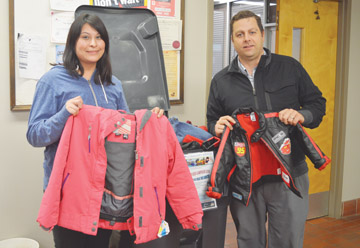 Photo by Tim Kalinowski- Coats for Kids campaign coordinator Jonelle Gladue and Redcliff's director of community and protective services Kim Dalton hold up a few of the winter coats brought in to the Redcliff's town hall's collection bins. The drive ends on Monday.
By Tim Kalinowski
This week will be the last one to participate in Redcliff's "Coats for Kids" campaign, where warm coats are donated so needy families can have appropriate clothing for winter without breaking their budgets.
The Coats for Kids campaign is spearheaded by Redcliff's Family and Community Support Services (FCSS) in conjunction with the United Way of Southeast Alberta.
Redcliff's director of Community and Protective Services Kim Dalton says the community has been very generous so far, and FCSS is hoping to wrap up the drive strong.
"For a youth or a kid to go to school without a jacket, or with an improper jacket, is not something we want to see happening," says Dalton. "So this was something we could do in house that would have an impact. Having a proper coat is something people appreciate every time they go outside, and they have that warm jacket. This is definitely a different campaign than, say, a toy drive. It's more about needs over wants."
Redcliff has normally tied its annual coat drive to the City of Medicine Hat's. This year, says Dalton, FCSS felt the need was so great in Redcliff it warranted bearing down on it with a more locally-geared, sustained effort than in previous years.
"We decided to put more muscle in it this year because of the economic impact that has effected Redcliff," confirms Dalton. "There are a lot of families that are doing without this year as opposed to previous years, due to employment or the amount of shifts they are getting at work or anything like that. We know there has been a definite economic impact to our residents so this was something we wanted to make sure that we could do to help."
There are three coat collection bins (at the Library, Town Hall and Rec-Tangle) set up around town until next Monday. The coats will be given out next Wednesday, December 14 starting at noon at the Redcliff Public Library.