More than $40,000 raised at St. Mike's fundraiser
Posted on December 6, 2016 by 40 Mile Commentator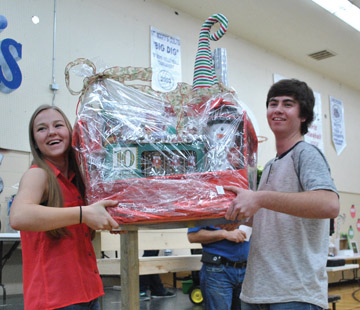 By Jamie Rieger
The bidders were generous at the fundraising event at St. Michael's School on Friday evening, raising more than $40,000 through the silent auction, live auction, raffle tickets, and dinner.
"We $40,318 in income, before expenses are taken off and the expenses are minimal," said Cassandra Kielstra. "We are very grateful to the people who have supported us."
The bidders were being generous in showing their support. A plate of turtle brownies went for $1,000, a plate of butterhorns with a John Deere apron went for $875, a wooden cooler crafted by student, Anthony Crooymans sold for $4,600, and an outdoor adventure package for $1,350.
Monies raised at the annual event goes toward field trips, the school's music program for instruction and instruments, the Missoula Theatre productions, and other items.
"This is dicretionary funding for staff to use that helps enhance their school experience," said principal Chris Sumner.
Sumner also said that each student at St. Mike's, when they enter  Grade 9, receives a laptop computer. However, the laptop comes with a catch. In order for the student to keep the computer, they must graduate.