PRSD has good news and bad news in revised budget
Posted on December 6, 2016 by 40 Mile Commentator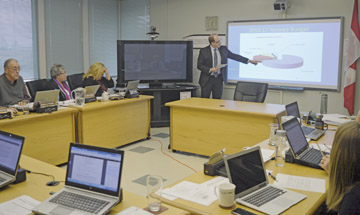 Photo by Tim Kalinowski- PRSD secretary/treasurer Ryan Boser explains the division's revised and audited budget numbers to Board trustees last Tuesday.
By Tim Kalinowski
Prairie Rose School Division got a clean bill a health from its auditors, and a few pieces of good news which improved the school division's overall budget situation in 2016/2017 at last week's special board meeting on Nov. 29.
Overall PRSD will have $197,000 smaller deficit this year than previously projected, bringing the total shortfall down to $602,364 this year. (About $400,000 of that total comes within PRSD's transportation budget). Enrolment numbers are also up slightly, with 29 more full time students entering the school system than estimated.
This year's final budget number is just over $50.8 million in revenues and $51.4 million in total costs. The school division has also accounted for increased heating costs due to the impending carbon tax in its revised budget.
"We would normally budget about $180,000 for natural gas costs, but the new budget is $210,000 ; so that will be a $30,000 increase just based on that tax," PRSD's secretary-treasurer Ryan Boser told board trustees on Tuesday. PRSD's bussers are still under contract through 2017 so the school division will not have to absorb increased costs from the carbon tax on that end of things for another year at least.
PRSD's auditors gave their seal of approval to the revised budget and found no unexplained inconsistencies, much to the relief of PRSD superintendent Brian Andjelic.
"If there is a problem the irony is it is the superintendent who goes to jail not the financial officers," joked Andjelic. "It's always a good day when I hear good news from our auditors."
He thanked his staff for all their hard work in getting through the audit process successfully.